Prices in Barcelona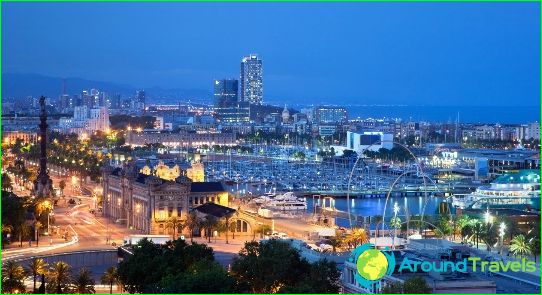 The main tourist attraction is the property of SpainBarcelona. On the Iberian Peninsula, this city is the second largest. Barcelona is located in the north-eastern part of the country and is considered the capital of the Catalonia region. The city is considered to be quite expensive compared to other Spanish cities. But the prices in Barcelona are not as sky-high as in European capitals.
Accommodation in Barcelona
Prices for hotel rooms are not very high. In the popular hotels with 3-4 * can stay for 80-160 euros in high season. This is possible if booking in advance. Accessibility is any hotels of the city, even those located in the central areas and near the sights. For tourists who like to vacation budget, designed with two stars hotels and hostels. Prices of accommodation to them in the range of 50-60 euros. If you need a high quality service, then booking a hotel 4-5 *, where superb accommodation cost about 200 euros or more.
Excursions in Barcelona
All sights are concentrated inone place. Therefore, in Barcelona very popular walking tours. To get acquainted with the historical monuments, you do not have to get to their transport. During the walking tour you will get acquainted with the legacy of Gaudi, a walk in the park Guell, and visit the cathedral Sagrada Familia. Tourists gladly walk the Gothic Quarter, where there are ancient streets. The cost of individual trips is 25-50 euros. Popular all sorts of things to do in the surroundings of Barcelona. The cost of long tours readily available for tourists with an average level of income. A little more than 830 euros is a guided tour from Barcelona - Costa Brava -Figeyros - Nice - Monaco - Monte Carlo - San Remo - Cannes -Nice - Barcelona.
The cost of transport services in Barcelona:
travel cards for the first zone for 1 day - 6.20 euros (valid on the bus, train and metro);
metro ticket - 1.45 euros;
voucher for 10 passages in the 1st zone - 8.25 euros;
a ticket for a month - 51 euros.
Dining in Barcelona:
Tourists are perfectly catering in the restaurantfrom the network Fresc Co. There you will find a wide selection of different, delicious and inexpensive meals. The network specializes in Mediterranean food and healthy eating. In Barcelona and the surrounding area has 18 institutions included in this network. At the entrance of the guest pays 9.95 euros on weekdays and 11.95 euros on holidays and weekends. After that, he can choose any favorite dish to him. The range of Fresc Co restaurants have gazpacho, paella, tortilla, omelets, pizza, barbecue, sweets, coffee, tea and various juices.
Barcelona
Photo