Shops and shopping centers in Barcelona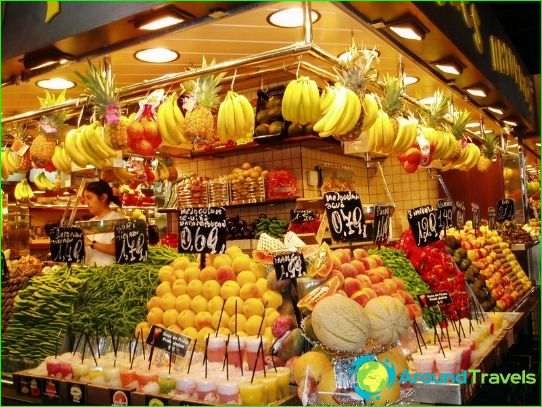 Barcelona in front of a Shopaholic is not inferiorParis or Milan. Stunning variety of shops, country Outlets, sunny and colorful Catalans will make forget about the troubles and will rest the soul. But the body will have to work hard - shopping burns a lot of calories. If you find yourself in Barcelona at the beginning of season clearance sale, then you start buying clothes one size and finish, probably with a smaller size.
Boutiques
Barcelona offers 5 km from the luxury boutiquesthe end of Las Ramblas, in Plaza Catalunya along Passeig de Gràcia and up to the end of the street. Diagonal. We walk on foot, the wonder creations of Gaudi, look in the old streets, in the shops to shell out Giorgio Armani, Burberry, Bally, Cartie and others. But the Spanish brand Zara, Mango and less known Uterque, Dutti delight relatively low prices.
Born Quarter - an area of ​​the Catalan bohemian with his clothing style and bars so restaurants. Here boutiques with clothes of young Spanish designers and clear only the young avant-garde fashion.
Yet another expensive area boutiques - Touro Park, located north of the main streets, also deserves close scrutiny.
Shopping centers
They are set in Barcelona, ​​almost in every districtthe city has its:. Diagonal Mar, Glories, L'Illa Diagonal Maremagnum, etc. They can be purchased all at once, to take refuge from the weather, a square meal and a break from the heat, if it happens in the summer. You can safely take their children with them, they will do on the various playgrounds.
In addition to clothes and everything connected with it, as in gifts and electronics, these centers have supermarkets and grocery stores. Here you can buy Spanish wine and ham.
El Corte Ingles Placa Catalunya and El Corte InglesPortal de l'Angel - the shopping and entertainment venues are located in the heart of the city at Plaza Catalunya. Stay in any of the two shopping centers in the day until the evening and admire the famous "Singing Fountain" near the square.
Outlets
These stores offer the perfect clothes and accessories last year's collections. In Russia, their products are often as "the last squeak" at a price higher than the collection of the current season.
La Roca Village - shopping street isthirty-five - forty kilometers from Barcelona, ​​is open daily, except Sundays. You can get there by car or bus to Plaza Catalunya. How to get paid, the ticket is paid directly to both ends.
Burberry Outlet is located on Valencia Street. Large clothing store, footwear, bags and accessories for the whole family.
Outlet Bóboli. In this shop the Spanish brand's parents will find clothes for their children from 0 to 16 years.
Photos of Barcelona shops