Streets of Barcelona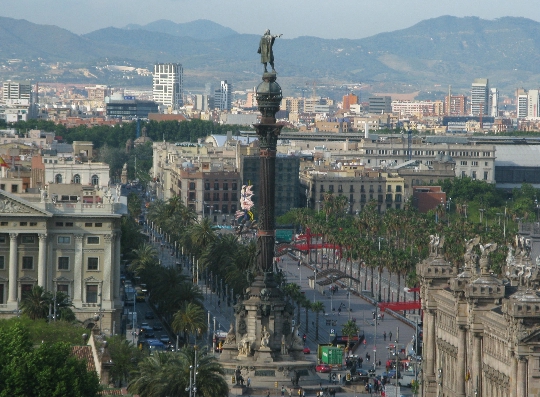 The largest city in Spain is Barcelona. Here are concentrated commercial and industrial life of the country. Many of the streets of Barcelona have a beautiful design.
Most urban highways
The longest street is Avenida Diagonal,crosses the city diagonally. It begins near the popular "Diagonal Mar" shopping center and runs through the whole of Barcelona. After crossing a street Passeizh de Gracia, it becomes glamorous. They are the best in the city of cafes, boutiques and nightclubs. Avenida Diagonal is completed in a luxury district of Pedralbes. This is a prestigious place in the west of Barcelona. It is home to the Royal Polo Club and the Royal Tennis Club. From here there are attractions Palace Pedralbes, Pedralbes Monastery and the US Embassy.
The financial center of the city is the District ForestCorts. On its territory there are many excellent restaurants, hotels and boutiques. The area is located near the university of the city and has convenient transportation. Another prestigious area of ​​Barcelona considered Sarrià St. Gervasi. Today, Sarrià St. Gervasi - is one of the best areas of the Catalan capital. He tranquil environment, the value of which increases against the backdrop of the bustling city life.
Walking Street is located in the center of Barcelona -Las Ramblas, the length of which is less than 1 km. It was built on the site of the river bed. Boulevard consists of several streets and divided into parts. Near the Plaza Catalunya is a site №1 - Canaletes. Behind it is land Rambla dels Estudis, named after the former University. At this point you can see the baroque church and the theater Poliorama. La Rambla - it's a great place for walking. Every day, the street is filled with pedestrians crowd. Inspection Rambla necessarily included in the sightseeing tours around the city.
The oldest part of Barcelona
In the Catalan capital there is a very old neighborhood -Gothic Quarter. It features medieval architecture. There are ancient palaces, houses, churches. This quarter is the heart of Barcelona. Many construction sites are considered to be of global importance. These include the Temple of Emperor Augustus, the Royal Palace, the Church of Le Merce, the Cathedral of St. Eulalia and others.
Photos of Barcelona streets