Barcelona symbol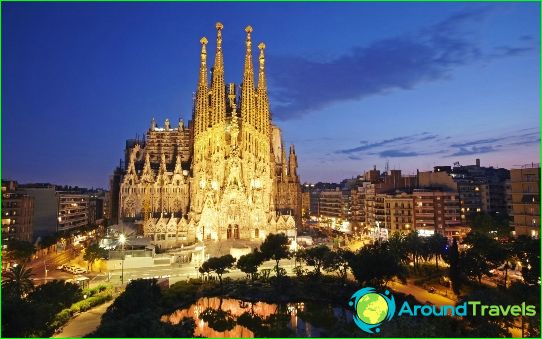 Catalonia's capital offers travelers a "drink" cocktails "mixed" on the beach and a fascinating tour of the town.
Sagrada Familia
Looking around the interior of the church - the symbolBarcelona, ​​travelers will delight in the majestic columns and intricate architecture, see the tomb of Gaudi - the architect of the project, as well as climb the tower for inspection Barcelona's spectacular views. Every day here are organized excursions lasting less than one hour and cost 4 euros.
Useful information: input - 15 euros (along with the rise of the tower ticket will cost 19.5 euros); Address: Carrer de Mallorca, 401; Website: www.sagradafamilia.org.
Column Columbus
60-meter monument (mounted on a pedestal,decorated with bas-reliefs) pleases guests the opportunity to visit the site where they will be able to enjoy La Rambla, the port, the old town (on the top of wishing to be delivered using the elevator; the ticket costs 4 euros). And because at the foot of the monument is a pier, if you wish, you can go on an excursion along the coast in a small boat.
Address: Placa Porta de la Pau (to the tourist service - bus number 57, 38, 14, 36, 18)
Palace of Catalan Music
For the vision of the interior decoration of the hall, with itscolored stained-glass windows and scenes that surround polurisunki poluskulptury music, you need to go on a guided tour (held every half hour, the cost - 17 euros) or attend one of the then ongoing concerts, after buying a ticket (in a break is recommended to enjoy the taste of coffee or sangria in a local cafe ).
Address: Carrer de Sant Francesc de Paula 2.
Fountain of Montjuic
Singing fountains attract guests with its eveningshow with the spray, light and music (depending on the season of the show begins at 19: 00-20: 00 and ends at 21: 30-23: 00 - it lasts for 20 minutes with a break of half an hour, and during that time there is no repeat classical melodies and international hits of pop music). It is worth noting that at the end of La Merce Festival here will be able to enjoy the "piromuzykalnym" show with lasers, music and fireworks.
Address: Pl. Carles Buigas 1.
Amusement Park "Tibidabo"
Since the park is crowned top of the mountain to be able toaccessible by cable car, and at the same time along the way to enjoy Barcelona from a height. The park (ticket for all rides will cost 28 euros), guests will find about 30 rides (entertain children visiting the museum of mechanical toys), and on weekends (evening), they will be able to see theatrical performances.
Address: Placa del Tibidabo 3-4.
Photo