Shopping in Barcelona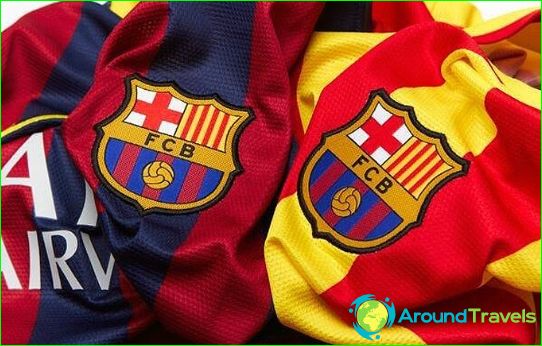 The trip to Barcelona - it is bright and uniqueadventure, during which you will get an unforgettable experience. But do not forget about shopping for which the opportunities in this city are practically unlimited. In Barcelona there is a great variety of shops, bazaars, boutiques, shopping malls, and every day they offer more. To plan your shopping route, you must first decide on the shopping list. So, what to bring as a gift from Barcelona to the families and loved ones?
Original souvenirs
In addition to magnets and postcards, which arevery standard souvenirs in the shops you can find many unusual and interesting things that are directly related to the culture and history of Spain.
Castanets will be a perfect gift even for friends or relatives who do not like to dance. This is a unique symbol of Spain, known throughout the world.
It is difficult to imagine Spain without bullfights, so in every souvenir shop you can find ceramic figurines in the form of bulls and bullfighters Fine.
Attributes associated with FC Barcelona, ​​will be an invaluable gift for football fans. It is best to buy such souvenirs branded shops.
Another valuable gift from Spain can be called a fan or otrez lace and costumes, but they are not cheap.
Books about the art of Gaudí will be an excellent gift to lovers of architecture, design, contemporary art.
Gastronomic purchase
Your trip to Barcelona will be considered truly successful if you buy any of these Spanish products. So, what to buy in Barcelona Gourmet:
Olive oil is almost a must-have, as one of the best in the world.
Traditional drinks - sherry and Spanish wine, which differ excellent taste.
Of the meat products worth a try jamon,which is a Uncooked jerked pork ham and is considered a local delicacy. It can be purchased in one piece, and you can already finely chopped, it is much more convenient.
Turon - traditional sweets with nuts and honey.
Spanish cheeses, which are also characterized by excellent quality and taste.
In Barcelona presented an abundance of brandsfrom around the world, and not least the famous Spanish producers. Here is what to buy - it's clothing, footwear, leather and fur products, jewelry, watches, and more.
Barcelona
Photos shopping in Barcelona