Where to go with children in Barcelona?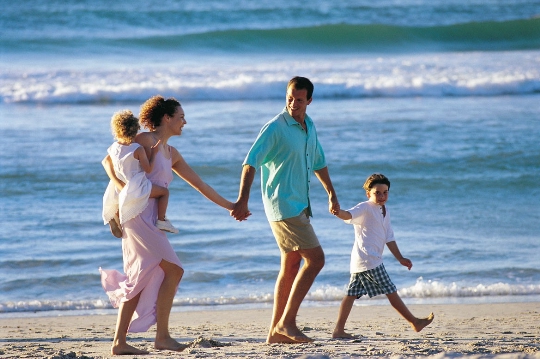 Many tourists come to Barcelona, ​​wondering what they do on holiday. Where to go with children in Barcelona to leisure was informative?
Walking around the city
The main attractions are concentrated in the city center. Reaching for one day all points of interest are impossible. The best option - visiting 2-3 institutions.
Start your acquaintance with Barcelona can be DistrictBarceloneta. There you can sit on the boat and take a boat trip, looking at the city from the water. Then the children can visit the city aquarium, which is located in the same area. In the aquarium, marine animals are found, and a variety of fish. Stroll among the animals can, if you visit Barcelona Zoo. An adult ticket costs 19 euros, for children - 11 Euro. Next to the zoo is spread beautiful Ciutadella Park, where there is a lake and waterfall. In this park you can take a boat ride on the lake with your family. The picturesque village is the Park Guell, alleys are decorated with sculptures of Gaudi.
In Barcelona is a wonderful museumchocolate. Having visited this restaurant, you can learn the history of the invention of chocolate. There tourists make sweet purchase. Entrance fees to the museum is a chocolate that an adult can be purchased for 5 euros. Pre-school children attend the facility for free. Next to the Museum of Chocolate is a mammoth museum based Russian in 2010. It contains a unique collection of paleontological findings. To combine business with pleasure, go to the shopping center "Maremagnum", located next to the port. On the road you can see the yachts and ships. Sitting in a cafe, you will see the window as cruise ships sail by.
Leisure activities for children
Amusement park on Mount Tibidabo give your child a lot of joy. This is an old park, equipped with roller coaster and Ferris wheel. Beautiful view of the city from Mount Tibidabo.
Where to go with children in Barcelona, ​​to hittheir spectacular activities? In this case, you need to travel outside the city. The best place for family leisure - Amusement park "Port Aventura". A ticket for an adult costs 45 euros, for children - 39 Euro. A good option for entertainment - park "Catalonia in Miniature", the remote from Barcelona to 17 km.
Photo