Christmas in Madrid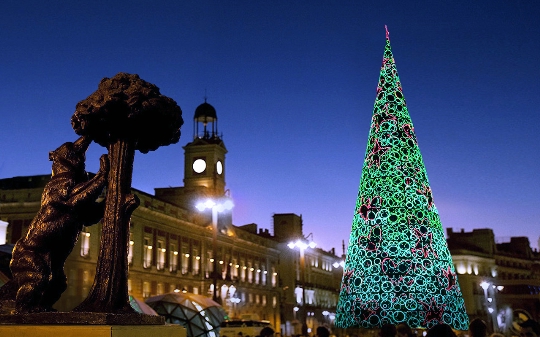 Planning to celebrate Christmas in Madridtravelers better to come here a little earlier - in the pre-Christmas time they will see the transformation of the city and feel the holiday spirit on the streets of Madrid December (nativity scenes, concerts, shows).
Features of the celebration of Christmas in Madrid
Officially opening the Christmas periodMadrid kicks off on 18 November when the city hall Palacio de Cibeles at 20:00 arranged light show and fireworks. City at this time is decorated with illuminations, and those who are weary, or who do not like walking, can move around the city on a Christmas bus Navibus.
Directly holiday itself (25 December)celebrated in the family circle - Spaniards consume turkey with mushrooms, seafood and champagne. Locals and tourists can enjoy the Christmas dinner from mid-December. So, you can visit the "El Glass Bar" restaurant at the "Urban".
Entertainment and celebrations in Madrid
View of the exhibition with nativity scene townIt offers to its guests in the Museum of Madrid cultural center Fernando Fernan Gomez, the Museum of San Isidro. A child should look at the El Corte Ingles department store - here for them to set the original nativity scene with animated characters in the form of fairies, animals, friendly monsters.
Parents should please the young touristsfun walk "Adventure King Bubi and mouse Perez" and allow them to "experience" route "Christmas traditions", during which children will be introduced to the Madrid holiday traditions and taste the sweetness. As for adult travelers, they are invited to go on tour "Historical henbane" (the biblical Christmas scene in the form of sculptures and models) - to admire Madrid bleached them taken to the Basilica of San Miguel and Royal Palace.
23 December - 8 January with children should visit the Cultural Center Conde Duque - for them there opened City children, and a variety of events.
January 5 at wanting a chance to see the cavalcade of the Magi - in front of their eyes appear costume procession of the Magi - Baltasar, Melchior and Caspar (they throw candy to children).
Christmas Markets in Madrid
Visiting the Christmas fairs and markets on the Plazade la Santa Cruz and the Plaza Mayor (29 November - 30 December), visitors will be able to acquire a variety of gifts, figurines for nativity scenes, ornaments for the home, traditional Spanish goods.
14 December - 5 January functions (forexcept on 1 January and 25 December) Christmas Fair Feria de Navidad on the Plaza Espana - then sell leather goods, ceramics, jewelery and ornaments, figurines and toys.
Despite the fact that the sale of discount in Madrid begin not earlier than January 2 in the Christmas season still visit the El Corte Ingles department store.
Photo