How to fly from Madrid to Moscow?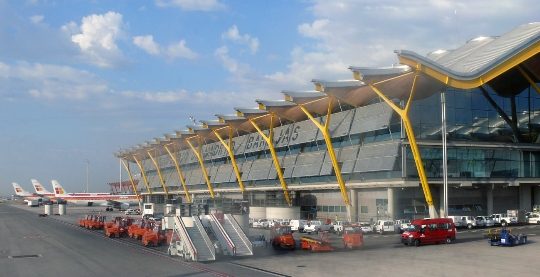 On holiday in Madrid, you managed to visitMadrid Zoo and Aquarium, see the Palacio de Santa Cruz, stroll along the Gran Vía, a ride on the funicular to the park Casa de Campo, look at the paintings of Botticelli and Rubens in the Prado Museum, snack at the Museum of jamon, admire Stradivarius violin and old weapons in the Royal Palace as well as opera and ballet productions at the Theatre Royal? And now you're looking for information on the flight in the opposite direction?
How to fly from Madrid to Moscow (direct flight)?
The Spanish capital is removed from Moscow for more than 3400 km, will be able to overcome that you in about 5 hours. Since "Air Europa" will you be in air 4 hours and 50 minutes, and with "Iberia" - 5 hours.
Want to know how much it will cost you air tickets from Madrid to Moscow? Tickets are sold at affordable prices in May and April (about 7500 rubles), and on average they cost 19400-23500 rubles.
Flight Madrid-Moscow with transfers
At the docks in Brussels, Rome, Geneva,Casablanca and other cities, air-ride lasts 6-25 hours. The duration of your air travel will be 6 hours on the way to Moscow in Prague ( "Czech Airlines"), 19 hours - through Casablanca ( "Royal Air Maroc"), 7:00 - via Barcelona ( "Aeroflot"), 14 hours - through Geneva ( " Swiss "), 11:00 - via Warsaw and Prague (" LOT "), 25 hours - in Athens (" Aegean Airlines "), 17 hours - in Amsterdam (" KLM "), 11:00 - via Frankfurt ( "Lufthansa"), 13,5 hours - in Paris ( "Air France"), 8:00 - via Rome ( "Alitalia").
How to choose an airline?
On the route you want fly Boeing 737-800, Embraer 190, Airbus A 318 and other airliners, belonging to the following airlines: "Iberia"; "KLM"; "Vueling"; "Niki".
Registration for the flight Madrid-Moscow made inBarajas Airport (MAD), located 12 km from the center of Madrid (move between the terminals you will be able to free buses green, following in the direction of T1, T2, T3 and T4). Where you can do some shopping in one of the 100 stores (there are duty-free), pass the time before departure in a way in a restaurant, snack bar, VIP-room with free access to the Internet, use the services of mail, telegraph and exchange office. And for children there is a games room (you find them in terminals T2 and T4).
What to do with themselves on a plane?
The air should consider which of the familiar andrelatives present gifts purchased in Madrid, in the form of products, symbolizing the football club "Real Madrid", herbal tea, candied violets, ham, souvenirs with the royal arms, figures of bulls and bullfighters, Spanish guitar, castanets, souvenir scarves, perfumes brand " Alvarez Gomez ".
Photo