Viewpoints Madrid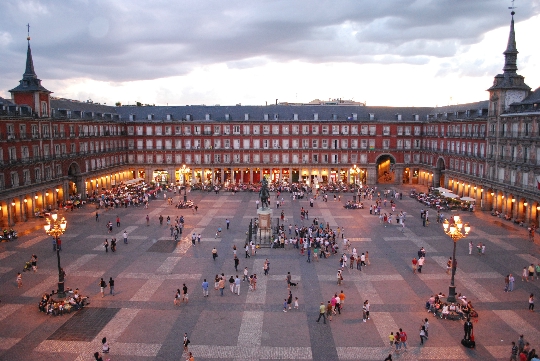 Would you like to take another look at the capital of Spain? Climb up to the observation deck of Madrid, to a height of feel the greatness of this city.
Sibelis Palace
The facade of the palace, 40 meters high, decorated with differentallegorical and decorative elements in the form of knights with swords and stars. Palace Roof pleases visitors with its platform for viewing the panorama of Madrid. It is also worth to visit and the restaurant, which occupies 6th floor of this building (guests waiting for tasting local dishes, as well as enjoying views opening onto Sibelis with its famous fountain area).
Useful information: You can visit the observation platform on a daily basis from 10:30 to 19:30 (except - Monday is a day off); tickets cost 2 euros (0.5 euros / children under 12 years).
How to get there? To get to the Plaza de Cibeles 1, guests of the capital is to use the bus service number 37, 14, 2, 51 and 1.
Almudena Cathedral
Visiting the museum (be able to admire the expositionsacral objects, including church utensils, clothes priests, books) through the steep stairs leading to the dome of the cathedral (neo-baroque, height - 75 m), you will be taken to court for review, where it will be able to admire the Royal Palace and almost all the old part of the city. Ticket price - € 6 / adult, 4 euro / beneficiaries.
Address: Calle de Bailen 8 (here go buses number 148 and 3).
Circulo de Bellas Artes
To get to the observation deck (openthe best views of the Spanish capital), you need to pay 3 euros - hence well visible Gran Vía and Alcalá. In the center you can visit the exhibitions, lectures and concerts, and at the top to look at the cafe (entrance to the building and the cafe - 1 euro), famous for the variety of chocolate drinks.
Address: Calle de Alcala 42.
Gardens Las Vistilyas
Arriving here, travelers will be able to admire the beauty of Madrid, as well as a rest, sitting on the grass or visiting cafes and bars located on the garden terrace.
Address: Calle de Segovia.
Restaurant Gourmet Experience
Restaurant Gourmet Experience, satisfyingculinary preferences of its guests, is located on the 9th floor of El Corte Ingles (can be accommodated in the room on the couch, on the covered terrace or outdoor) - visiting it is recommended to enjoy the panoramic views of Madrid.
Address: PlazadeCallao 2.
cableway
Vacationers in Madrid, you should usecableway services Teleferico de Madrid (starting station located on the street Paseo del Pintor Rosales), to be able to 40 meters high to enjoy an area of ​​Spain, the Royal Palace, the river Manzanares (1 ticket in the end is worth 4.2 euros, while a return ticket end - 5.9 euros; duration - 11 minutes; works on the weekends in October and March, in the rest of the time - every day).
Photo