Prices in Madrid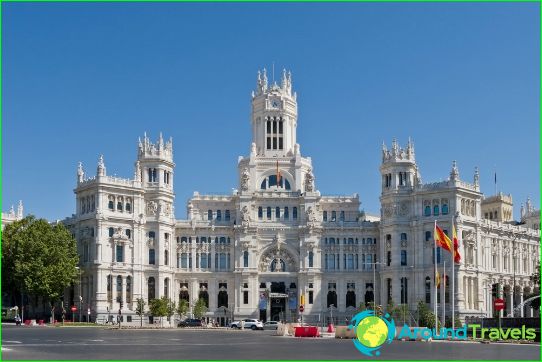 The capital of Spain - Madrid, isattractive destination for many tourists. This multi-faceted city with interesting architecture and ancient sights. Madrid - it is a political and cultural center of the state, however, prices are still affordable.
Where to stay in tourist accommodation
In Madrid, many upscale hotels thatoffering affordable accommodation. If your budget is limited, you can settle down in one of the hostels in the city center. Madrid hotels enjoy the attention of tourists all year round. In the summer the demand for numbers is usually reduced, as many Europeans prefer to relax on the beaches. When planning a trip to Madrid for Christmas, book your room in advance. During this period the services are very popular hotels.
The easiest way to remove the beds in the dormitory. The cheapest place in the city center are filled in the first place. Place in a simple hostel costs from 9 Euro per night. If you are interested in the sights of Madrid, it is best to stay at the hotel, which is located in the historic center. 5 * hotels offer single rooms from 350 euros per night. The 4 * hotel you can stay for 55 Euros per person per day. The student can stay in the family of Spanish, paying 200 euros per week. The money included dinner and breakfast. Young people in Madrid can stay in the dormitory, paid 230 euros for a week stay.
Activities and excursions in Madrid
a viewing attractions moderate prices. In many museums admission is free. In Madrid there are many architectural sites that deserve attention:. Plaza Mayor, the Royal Palace, Almudena Cathedral, etc. Inspect the most interesting of them are in the course of the excursion. From museums to visit the Prado Museum, Thyssen-Bornemisza and Reina Sofia Museum. Nightlife Madrid is represented by numerous clubs, restaurants and tapas bars. Shopping-city tour starts at 100 euros. Tour of the Prado Museum costs about the same amount. A trip to Toledo for 1 day costs from 370 euros. During a trip to Valencia from Madrid is 3 hours you have to pay 600 euros.
Food in Madrid
In Madrid's restaurants offer fresh andinexpensive food. Drinks are sold at affordable prices in every corner. If you want a quick snack, in the central part there are a lot of points, which sells freshly baked pizza at 2 euros per piece. In Madrid, many inexpensive cafes, which prepare the Spanish national dishes. Their negative - the menu is only in Spanish. Good food without extra costs can be in the cafe «All u can eat». Paying per person 9.9 euros at the entrance, you can eat as you want.
Photo