Independent travel to Madrid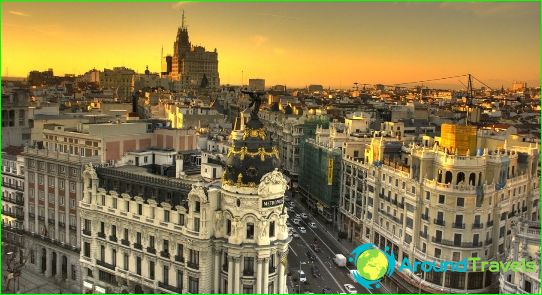 Spaniards believe their capital's most beautifulcity ​​in the world and in this sense is useless to argue with them. However, every traveler, was on the ground of flamenco, bullfighting and the Carmen, he understands that the owners are not so far from the truth. In Madrid there are two characteristics: it is easy to fall in love and hard to part with it. To experience such feelings, you need only to obtain a Schengen and buy a ticket. The rest of you can provide the city in which each person becomes a little happier.
When to go to Madrid?
The Spanish capital is good in any season. In summer it is very hot, which makes dazzling Spanish women wear beautiful dresses. Spring - time to flowering Madrid Parks and autumn - a lovely time for fans of golden leaves, whirling to the rhythm of flamenco. Winter Madrid offers Christmas fairs and sales, and looks fantastic illustration of a fairy tale.
How to get to Madrid?
A few kilometers from the city is locatedthe international airport of the Spanish capital, where regular flights from St. Petersburg and Moscow, several airlines. From the airport to the center of the easiest to reach by bus or subway. The ticket price is the same for both types of public transport. A taxi will cost much more expensive, but due to the proximity to the city of the amount will not be catastrophic.
housing
Hotel Spain capital fund represented the mostdifferent hotels - from pathos and expensive network of luxury to simple and inexpensive type of "bed and breakfast". Especially popular with independent travelers hostels "ostales", located in the attics of houses. Less of such housing - a shared bathroom, which is compensated by a more than pleasant prices per room per night. Attractive "ostales" and the fact that they are usually located in the historical center, allowing you to save money on public transportation in Madrid.
Argue about taste
Spanish cuisine - is the paella, jamon,donuts, churros and paella again! It is the home of the famous Spanish rice dish with seafood and chicken should be ordered and try it. It is best to eat paella in small restaurants where the locals dine. Firstly, there are cheaper, and secondly, in these institutions, and the portions are large and the food tasty.
Cognitive and exciting
Travellers in Madrid dazzled: so many things need to get done, hear, see and taste. Start your acquaintance with the city is the main area of ​​Madrid - Puerta del Sol. Around the heart of the capital is located a lot of famous buildings and landmarks. The whole day will have to devote to the visit in Madrid Prado Museum, which exhibits the world's best masterpieces of painting and sculpture.
Photos trip to Madrid