Madrid Streets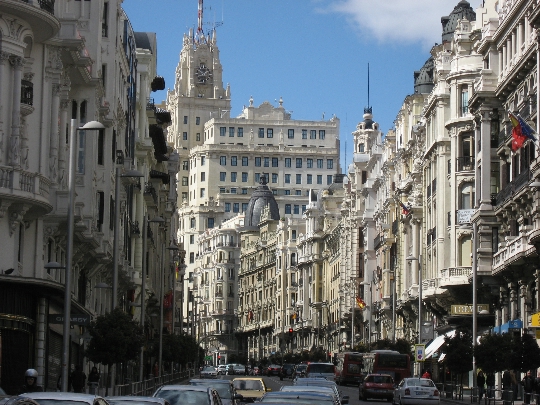 Madrid - Spain's main city, consisting ofa variety of quarters. In the afternoon, he plays the role of the business center of the country, and at night is transformed into a bright and noisy place. Many of the streets of Madrid look very colorful. These include the central artery, as well as street Lavapies and Malasana districts.
Madrid is characterized by contrasts. It has quiet streets, and the place where the lovers of night life. Modern buildings are combined with medieval buildings.
The Spanish capital is made up of 128 districts and 21District. The historical center is considered to Centro district. On its territory are located the most famous attractions. A popular area is the Retiro Park, the Prado Museum, Buen Retiro Park, the best hotels and shopping centers. The most prestigious and expensive area is considered to Chamartin. Financial center acts district of Tetuan.
Gran Vía
This is one of the main streets of the Spanish capital. The main road in the city is officially missing. Unofficially this category include street Gran Via. It stretches for 1.3 km and connects the districts of Salamanca and Arguelos. Along the Gran Vía are the most famous buildings in the city.
Street was founded in 1910During the reign of King Alfonso XIII. Earlier, on the site of the Gran Via located narrow streets. During construction of the new highway the old buildings were demolished. Today, the Gran Via is a major artery with numerous hotels, restaurants, cafes and shops. In place of its intersection with the street of Alcala in Madrid is a beautiful building - the house insurance company Metropolis, decorated with a winged statue of victory.
Interest on Gran Vía:
Skyscraper "Telefónica";
the famous "Tea Salon" at the intersection with the street Gran Via Victor Hugo;
Abra bars, Chicoutimi, Gran Peña;
architectural structures in the modernist style, neovozrozhdeniya and others.
Gran Via is the main shopping street of the capital. Besides her shopping fans appreciate Calle Montera, Calle Alcala and Calle Princess.
Plaza Mayor
Plaza Mayor is the main squareMadrid. It is located next to Puerta del Sol, in the place of the intersection of the streets Calle de Toledo Calle de Atocha and Calle Mayor. It is the most famous Madrid area, which is characterized by a rectangular shape. It was built in place of an ancient area of ​​Arrabal. Plaza Mayor is related to the historical events of the country. Previously, there was carried out autos and executions. This area first began to organize bullfights. Plaza Mayor is decorated with a statue of Philip III. By tradition, on Sunday on the square going Coin & Stamp.
Photos streets of Madrid