Shopping in Madrid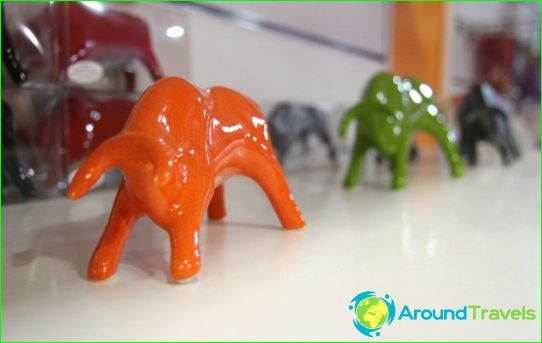 Madrid - Spain's capital and one of the most beautifulcities in the world with a rich artistic and cultural heritage. It is perfectly connected medieval architecture, modern business centers, beautiful parks and the largest Outlets. It's no secret that many of us are happy to make shopping in the cities visited. The capital of Spain, Madrid - this is the place that will be able to win the heart of any shopaholic.
All the tourists, going to this wonderfulcity, faced with the question - what to bring from Madrid? As a rule, some options you have before the start of the trip, but if even a specific "list" is not, it is very quickly formed in place. In this case can be pursued different goals: some acquire gastronomic specialties, someone wants to bring a lot of souvenirs relatives, and someone can spend all their money on clothes, jewelry and so on.
Shopping in Madrid quite varied. There is a huge shopping center, small shops, malls and excellent markets. In Madrid, you can buy everything you need: clothing and shoes from local producers and well-known brands, decorations, traditional drinks and foods, household appliances and much more. Everything will depend on your needs, interests, tastes, and the amount of money that you are willing to spend. But at the same time there are several kinds of gifts and souvenirs, which are recommended to bring this Spanish city.
What to buy in Madrid?
Clothing. In the Spanish capital, as nowhere else in the world, adore and appreciate fashion and style. And despite the fact that Madrid is not officially considered a fashion capital, is regularly held various fashion festivals. Particular attention of tourists visiting this sunny city, should pay on leather goods: shoes, belts, bags, etc. Spanish brands will conquer each their own color combinations and original cut. Connoisseurs trivial, colorful clothes is recommended to look into the boutique Agatha Ruiz De La Prada. Those who appreciate the classic clothing, might be interested in the collection of Caramelo. Practical and comfortable clothes are best to buy in the boutique Armand Basi. Most of the Spanish designers are experts in the original and stylish clothing.
Porcelain. It is not always included in the list of things that can be brought from Madrid porcelain, which is a big omission. Since the unique compositions and figurines presented in the local souvenir shops and stores - are true works of art.
Cosmetics and perfumes. Of course, the Spanish perfume is not so "popular", as the French, but it does not differ from it, just as well as decorative cosmetics. This is particularly true of the Spanish creams based on olive oil. Believe me, they will be for your loved ones perhaps the best gift that can be brought from Madrid.
Food. Leaving the capital of Spain, is also not forget to take a few bottles of good wine, delicious ham and olive oil. All this and more can be found in the numerous shops or on the market.
Madrid - a great place for shopping. Looking at the local attractions, and running through the local museums, do not forget to carefully look into the next shop window, because it is possible for them to sell something that will make a real furor among your friends and family!
Number of Photos in Madrid