Where to eat in Madrid?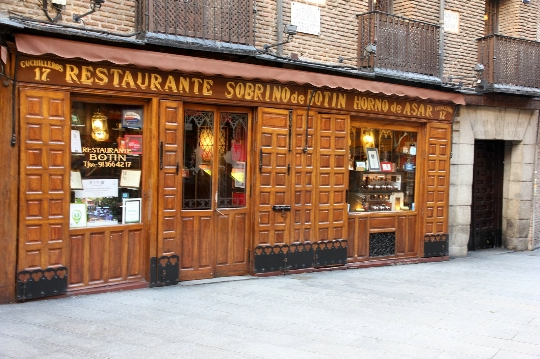 You do not know where to eat in Madrid? In this Spanish city, you will find plenty of dining options, including authentic cafes and restaurants where you can try the cooked meat in Madrid, soup with meat and vegetables in the pot ( "like Cocido Madrileño"), cod dishes and stewed entrails, chopped pieces (rennet), gazpacho ...
Where to eat in Madrid cheap?
Cheaply you can eat in establishments with "freemenu "- here, pay 9-10 euros, you will be offered to taste the salad, first and second courses (drinks charge is separate) For example, this principle has a cafe." All u can eat "- you will be able to try the soup, salad, paella, dessert. If you consider yourself to the fans a quick snack, in the center you find a lot of places where you can get a slice of freshly baked pizza or baguette with dried meat and vegetables inside at moderate prices.
Budget meal, visit Cerveceria 100Mantaditos - is a network cafe offers to taste more than 100 varieties of mini-sandwiches (mini-bocadillos), which are prepared based on the tortilla, sausages chirozo, various cheeses and seafood (cost 1 mini sandwich - 1-1.5 euro ).
Madrid Traditional cuisine at affordable prices can be enjoyed in the tavern La Bola: here you can enjoy the garlic soup, tripe, dishes based on meat and chickpea stew.
Where to eat in Madrid tasty?
Corral de la Moreria: in the menu of this flamenco restaurant you can find ravioli with foie gras and mushroom sauce, Iberian ham, Andalusian gazpacho, tangerine sorbet. It should be noted that in the institution are held daily evening and night show of music and dance genre (flamenco show).
Tavern "Casa Lucio": This restaurant specializes in cooking the old Castilian cuisine. Here you can try the jamon, Spanish meat hodgepodge, ragout of oxtail, stew poultry.
Sudestada: This restaurant serves Vietnamese, Thai, Laotian, Malay and Argentine cuisine. If you will be hard to determine the order for a meal try the restaurant staff will ask you to use a special tasting menu.
La Baracca: This restaurant's specialty - paella. Here you can try more than 10 kinds of traditional Valencian rice dishes (the main varieties of paella - seafood, meat, spicy, soft, liquid, thick).
Cornucopia: this place - Restaurant + Art gallery. Here in addition to the traditional, you can enjoy international cuisine (there is an extensive wine list and high quality dishes).
Gastronomic tours of Madrid
On the gastronomic tours youwill offer a walk on several tapas bars - here you can taste tapas snacks (ham, tapas-nuts, shrimp tapas, olives) and taste different varieties of wines.
While vacationing in the capital of Spain, you will never be hungry - the city has a lot of cafes, taverns and restaurants, a family of inexpensive and expensive, open at 5-star hotels.
Photo