Seville Airport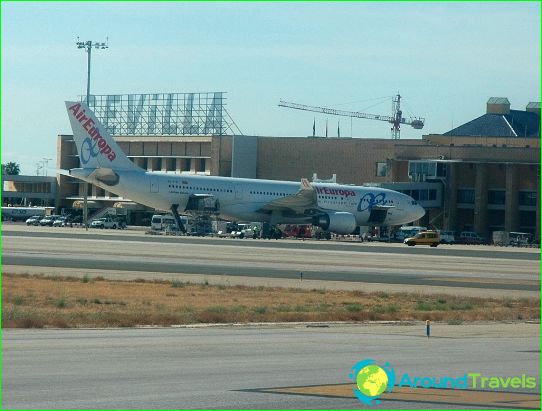 Second in terms of passenger traffic at the airportAndalusia caters to its capital - the city of Seville. This airport is second only to Malaga airport. Every year served more than four million passengers and performed about 50 thousand takeoffs and landings.
The airport has only one runwaystrip, its length is 3360 meters. Air connections to many European cities served by nearly 20 companies, among which are Iberia, Ryanair, Air France, Air Europe, etc. The largest number of international flights accounted for Paris Orly Airport -. About 300 thousand passengers a year. Domestically, most often fly to Barcelona - nearly one million passengers per year.
services
Airport Seville offers allessential services that you might need on the road. For hungry passengers on the territory of the terminal cafés and restaurants that are ready to feed the visitors delicious meal of local and international cuisine.
Also, the airport has a large area of ​​shops where you can buy various goods - perfumes, cosmetics, newspapers and magazines, food, souvenirs, etc.
For people with children in the territory of the terminal there is a mother and child room, as well as specially equipped areas for children.
If necessary, passengers can always seek medical advice in the clinic or buy the necessary medicines in a pharmacy.
Airport Seville offers tourists traveling in business class, a separate lounge, an increased level of comfort.
There is also a set of standard services such as ATMs, banks, post office, currency exchange, luggage storage, etc.
For tourists who want to travel around the country on their own, in the territory of the terminal work, providing cars for rent.
Getting there
From the airport to Seville about 10 kilometers. From the terminal building buses depart regularly to follow through the important points in the city. Also, to any point of Seville, you can go by taxi, of course, this service will cost several times more expensive than the bus ride.
Photos of Seville Airport