Christmas in Seville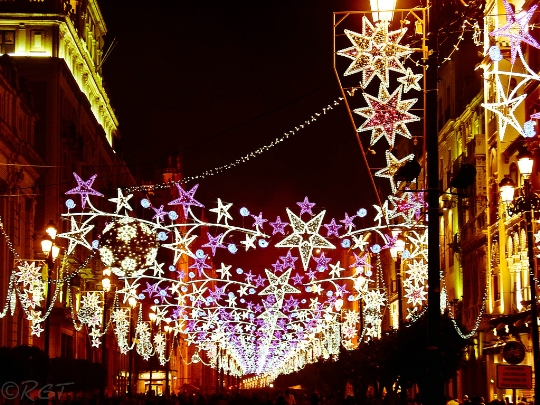 All who will celebrate Christmas in Seville,will be able to see the street performances, admire the Christmas scene in Belém, take part in the festivities and enjoy the gastronomic masterpieces.
Features of the celebration of Christmas in Seville
On Christmas Eve children bypass the neighboring house to sing Christmas songs, and at the same time receive a small gift from the owners of the house in the form of candy or coins.
Christmas for the Spaniards - family celebration(Family try to gather in full strength), to which they decorate their houses with garlands. With regard to the transformation of the city, then the holiday beautifully illuminated and documented the streets and shop windows. A stroll through the streets, in one of the trays, you can buy hot chestnuts roasted on glowing embers.
Believers usually attend midnight mass. And if we talk about the holiday table, then it exhibited wines and champagne, prawns, lobsters and lobster, turkey, stuffed with vegetables and nuts, or simply baked in the oven, fish dishes as sea perch Grilled whiting in shrimp sauce or sea bream baked with lemon (at the end of Christmas dinner on the table there are figs, hazelnuts, marzipan, nougat and raisins). And travelers can enjoy a Christmas meal in the restaurant "Azahar", pre-book a table there.
Entertainment and celebrations in Seville
To get acquainted with the Christmas Seville,should go to a special guided tour - thanks to him, you will learn about the holiday customs of Seville, try the traditional cake "Roskon" familiar with the tradition of establishing curly dramatizations of Jesus' birth (Belém), visit the Museum of flamenco performance.
If you are going to rest in Seville after Christmas,the January 5 you will be able to celebrate together with the locals feast of the Three Magi, accompanied by a parade where participants clothed in traditional costumes.
Christmas markets and fairs in Seville
If you have a desire, you get interesting gifts you succeed in one of the following Christmas markets:
Feria de Belen (Bethlehem Fair - open until 23 December) - here you can buy figurines for nativity scenes.
Christmas crafts fair at the city hall - you can get unique things created by local artisans.
Markets in the Plaza de la Encarnación inpark Alameda de Hercules (to move from one market to the other can take the tourist train) - here you can not only be treated with sweets and hot chocolate, but also buy a variety of souvenirs, and enjoy theatrical performances, and for children there daily live entertainment events and open workshops.
Photo