Seville Metro: circuit, photos, description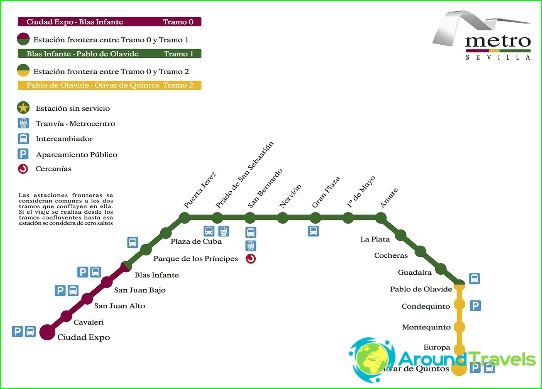 For almost three million of the city - the center of the SpanishAndalusia Seville province - the construction of the subway was a decision long overdue problems with traffic jams and congestion on the roads. Today the city has a first line Metrotram, whose length is more than 18 km. On the line for the needs of the passengers opened 22 stations. Train overcomes all distance route in 38 minutes.
The decision to build a subway in the city is ripeback in the 70's of last century. The construction of high-grade underground, however, was suspended and the project is frozen due to the fear of damage to underground works building foundations of the historic center. On the issue returned after 15 years and the decision to build a system of light metro was made in 2003, the Seville subway corporation. Work began immediately after the approval of the project, and 2 April 2009, the first line of the Andalusian metro was inaugurated. End station is the only branch of steel Olivar de Quinto and Ciudad Expo.
The day Metrotram carries up to 60 thousand. passengers that is at least twenty million people a year. Seville subway capacity is not enough, but because in the plans of the authorities listed project has three lines.
All trains Seville meters equipped with modernair conditioning system. The car can accommodate up to 190 passengers, which is intended for the 60 seats in each car. The stations use a system of automatic doors on the platforms. This innovation in Seville subway came first in the history of the world Metrotram.
Taking pictures in the subway Seville prohibited.
Hours Metro Seville
From Monday to Thursday inclusive metroSeville begins its work at 6.30 am. The last train leaves at 23.00. On Friday and days before holidays, the subway, is also open at 6 am, transports passengers up to 2 hours of the night. On Saturday, the station take the first passengers at 7:30 and close at 2am. On Sundays and holidays the underground days, offers its own from 7.30 to 23.00 service.
Tickets for the Seville metro
In underground Andalusian capital workszonal fare. In total there are three zones, and the difference in the payment, depending on the desired station may be about half-Jews. A travel to an unlimited number of trips per day will significantly reduce travel costs.
Photos of Seville Metro