Beaches in Valencia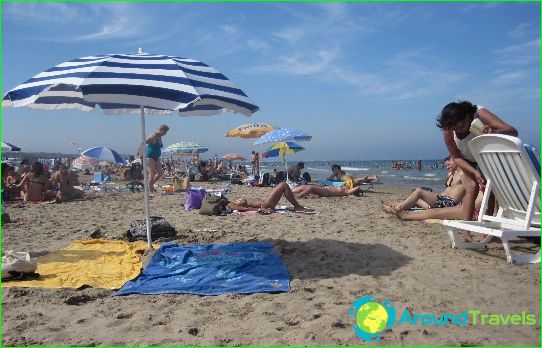 In the whole of Spain one of the best is considered to beValencia beaches. Many people on hearing the name of the Costa Blanca. This is a very popular resort area, and the translation of its name means "White Coast". And the cause is a lighter shade of the coastal sand. Generally, a distinctive feature of the many beaches in the entire coastal line Valencia - wonderful sand. Another distinctive feature of the local beaches - it is their purity. Well, every year get a blue EU flag can be called a third hallmark of many of these recreation areas. This award have the best sandy beaches of Valencia.
Beach Las Arenas
The name of the beach speaks for itself, becausehere ignite full of drama "battles" on the beach sports. The most popular here volleyball. The city beach of Las Arenas - the closest beach to the town center, it is located between the port of Valencia and the no less famous beach - Playa de la Malvarosoy.
Along the beach Las Arenas flowing alley, wherein high season there is a sea of ​​trade stalls with souvenirs. This is such a popular destination among tourists and residents, that people are lacking even at night. This Visitors local clubs, bars or snack bars, hotel guests or simply wishing to take a walk or sit by the sea.
Playa de la Malvarosa
Surprisingly spacious beach with very fine sandwaiting for all who want to sunbathe and swim. And at the same time you can explore the local restaurants, one of which the visitor himself was Ernest Hemingway. Name Malvarosa beach was named after the region where it is located. Earlier this town loved to relax the local bourgeoisie. Today it is - one of the busiest places in the whole of Valencia. This contributes to a lot of decent restaurants and cafes, which are wanting to visit, and many tourists come here in Malvarosu. In general, the local establishments are renowned for seafood and incredibly delicious paella. Malvarosa beach is famous for festive events, especially the annual air show.
Beach El Saler
From Valencia city center by bus in half an hour you canto get to the beach with clean sand. El Saler - so the beach - this is one of the most beautiful places such as the local coast, and in all the suburbs of Valencia. Vacationers are provided deck chairs and beach umbrellas. Salt water from the body, you can rinse in the shower. It adherents of an active lifestyle - hire of sports and swimming equipment. There are constantly lifeguard and paramedic. Eelayuschih snack waiting for cafes and restaurants. And you can leave your car at an inexpensive parking.
Amazing decorum of this beachIt contributes to the neighborhood with two natural parks - Albufera and La Deesa del Saler. Yes, and located west of Pine Grove also serves as a wonderful decoration of this place.
Photos Valencia beaches