Prices in Valencia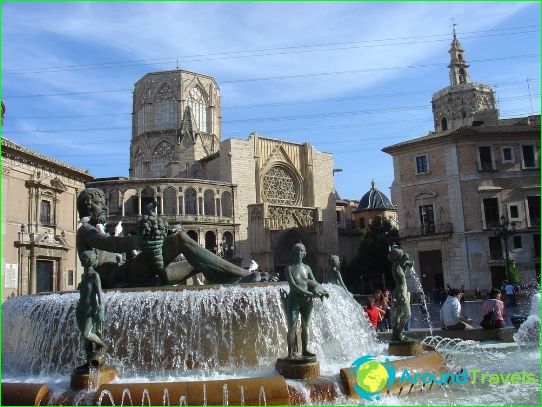 Valencia is the second largest portSpain. It is a major center of tourism and the city, which held sporting event of international importance - race Formula-1. Valencia offers entertainment for every taste. There are all conditions for cognitive, active and beach holidays. Prices in Valencia available for vacationers with an average budget.
Where to rent a house
Stay in Valencia at any time. Rental housing in the resort is not a problem. It offers affordable and comfortable apartments. Apartments can be rented for a day, a few days or for a longer period of time. The day for the apartment takes approximately 20 euros. Here vacationers are guaranteed a high quality comfort. Common room in the hotel costs 30-35 euros per night.
In the central part of the city there are manyhostels and hotels of different levels. Double room without bath costs about 30 euros per day. If you are interested in cognitive rest, then choose among the hotel facilities, which are located in the historic center of the city. For a good beach holiday is better to stay in a hotel on the coast. For tourists are not very comfortable business districts.
Prices in Valencia on entertainment
Tourists should be sure to visit the Biopark. In Valencia, it operates the largest aquarium in Europe. Entrance for adults costs about 25 euros, children and seniors make allowances. Famous place in the Spanish resort are the Palace de Mekado (storage of the Holy Grail) and the Gothic palace. The most interesting sites of Valencia can be seen during the tour. The cost of an individual tour of the city starts from 100 euros.
Sightseeing tour of the old part of Valencia standsabout 130 euros and lasts 3:00. The program includes inspection of the old architectural buildings, cathedrals and palaces. Group walking tour costs 45 euros. Car tour with a guide will cost 200 euros.
Eating in Valencia
city ​​restaurant serves typical Spanishdishes. Most popular: paella, jamon, nougat and other mid-level restaurant paella pan is worth 13 euros.. Arriving in Valencia, paella it is necessary to try. It was here a long time ago for the first time prepared this delicious dish. Prices of paella restaurants are different, depending on the institution level. The minimum cost of food - 8 euros. After the paella not forget to order dessert - cream valensyana or Catalan cream. Traditional desserts Valencia can also be purchased at the supermarket for 2 euros apiece.
Photo