Water parks in Valencia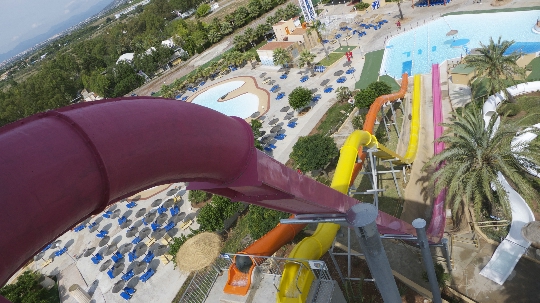 Vacationers in Valencia can have fun and stay active in the water park nearby (they are considered an ideal place for a family vacation).
Water parks in Valencia
Waterpark "Aquopolis Cullera" has childrenpools ( "Niagara" and "American pool" in which young visitors will find accessories for playing games and jumping in the water) and slides (among them is the hill "Himalaya"), large swimming pools and adult slides, such as "Black Hole" (height of fall - 2 m), a gift shop, rest places with bistros, cafes and restaurants. Cost of stay: children (up to 1.4 m) - 16 Euro, adult - 22 Euro (if you want to save 4-5 euro, it is advisable to purchase a ticket is not on hand, and through the Internet). It is worth noting that in the ticket price does not include the cost of renting deck chairs, so if you want to warm up with a stay on a sun lounger, will have to pay 4.5 euros.
Water park "Aquarama": apart basins ( "tropical wave") and water attractions ( "Kamikaze", "Big Hill"), it is equipped with a tower "Diabolical jumps", a relaxation area with waterfalls, "Los Lagos", a children's area "Elephant Island", the power institutions. Tickets cost from 11: 00do 19:00: children - 17 Euro, adult - 23.5 euros. The price of tickets from 15:00 to 19:00: children - 12 Euro, adult - 17 euros.
Water Activities in Valencia
To be able to swim every day in the pool, it makes sense for travelers to stay in a hotel with a swimming pool - in the "SH Valencia Palace", "Hotel Medium Valencia", "Primus Valencia" and others.
If desired, you can visit the Aquarium of the Pacific: then you can "meet" with 40,000 animals - different kinds of fish, mammals, reptiles and visit different areas (area of ​​mangroves and marshes, Aquarium tropical and temperate seas). In addition, you can look at the Dolphinarium in the dolphin show.
Travelers are pursuing different goals,should rest on the beaches of Valencia - the wide beaches stretched along the coast, and are well-equipped recreation area (here you can see the schedule and the list of services, recreation areas scheme, the terms of hire deckchairs, surfboards and other things). It is worth noting that in the noisy and active holiday it is advisable to go to the northern beach area, and for a more peaceful and solitary - in the south. So, it is necessary to look at the beaches PlayaLasArenas (it is suitable for outdoor activities - games in volleyball and other beach games, as well as for lovers of noisy gatherings, there often are fairs and concerts), Playa dela Malvarrosa (for children are installed playground for active tourists - open hiring stations and water sports equipment and facilities - equipped with a seating area), Playa El Saler (here present expanse for those wishing to engage in kite and wind surfing, and also the beach is equipped with point of hire of beach and sports equipment).
Photo