Beaches in Costa Brava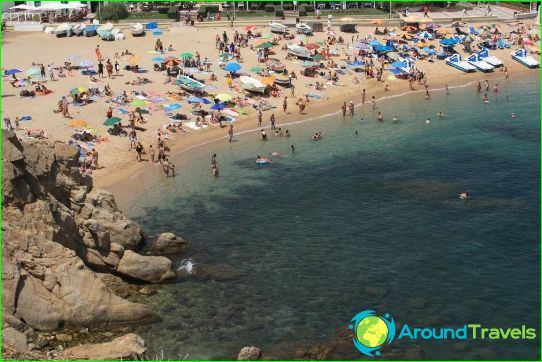 Costa Brava - the northern area of ​​allSpanish coast. Its name means "Rocky Coast", and the truth - the landscape here includes palm trees, firs and pines, but it still remains extremely rocky.
But here you can climb a few onlymeters above sea level and to see the magnificent view of the endless golden beaches of the Costa Brava. First of all, it's sandy coastline, of which there are many. The whole line of the Spanish coast is a series of beaches and recreation areas. Since in Spain almost all year round sunny climate as well - nice and comfortable, and the campers are always innumerable.
Lovers of rest, of course, to visitthe best sandy beaches of the Costa Brava, a pebble - who is more to their liking. There is a small romantic bay, glittering in the sun bizarre crystal-clear water. The beauty of the coastline - stunning, the scenery - spectacular. Here you can find an amazing sunrise and to see as the first rays of the sun get rich sky.
Here, the Mediterranean year round warm water. They washed ashore, generous sun warms the sand almost throughout the year.
Beach Lloret de Mar
This is the perfect place for an unforgettable vacation. Here the shore is securely protected from the cold winds and magnificent bay, like a scattering of pearls, surrounded by crystal-clear waters of the sea. Especially successful for rest here during peak season. Sun at this time a soft, pleasant, gives a golden tan. In addition to local markets these days there is a large variety of choices of fruits and vegetables at reasonable prices.
Santa Cristina Beach
On the Costa Brava there is also a wonderful beach of Santa Cristina, which always pleases travelers very warm atmosphere and the radiant purity of the sea.
Beach Cadaques
This beach is considered to be a bohemian, asIt was once a favorite place of great painters. He remembers and Picasso, and Matisse and Salvador Dali. It is possible that the great masters of the brush here found inspiration for his greatest paintings!
Playa de Aro
There really is not only to relax on the goldensand, but also to bypass a number of fashionable shops, nightclubs, souvenir shops and cafes. In addition, there a number of lovely park with different water attractions.
In the evening you can stroll along the promenade of Tossa de Mar. This will be the logical culmination of a day of rest. There you can admire the medieval fortress Vila Vella.
Photos beaches of the Costa Brava