The coast of Spain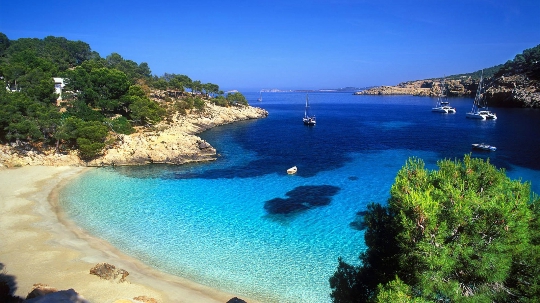 Relax on the coast of Spain - a pastime on the beautiful beaches of the Mediterranean Sea and the Atlantic Ocean.
Spanish resorts on the coast (the benefits of rest)
While vacationing on the Costa Dorada resorts (partCatalan coast), you will spend time on the sandy beaches of golden color, you will be able to enjoy windsurfing and sailing; Costa de la Luz (Coast of the Atlantic) - visit the national parks (look at the Parque Nacional de Donana), play golf at the equipped fields, surfing, kite surfing, windsurfing; Costa del Sol (Mediterranean) - have fun at the popular water park rides, squash, golf or tennis.
If you choose to relax on the coast resortsCosta Brava, here you will have to wait quiet coves, ancient dolmens, ruins of castles and mysterious caves, and the rest of the Costa Calida will be able to soak up the sandy beaches, scuba diving, visit the salt lake Mar Menor.
Cities and resorts on the coast of Spain
Salou: be sure to spend time in 6 thematic areas of amusement park "Port Aventura" (here are the highest in Europe, the roller coaster - "Shambala", interesting attractions for children, including a children's zone "SezamoAventura", and adults, and to move between zones provide boats and trains), on the beaches of Playa Capellans and Playa de la Cala Kranks (family and children's rest), a water park, "the Aquapolis" (addition of water slides such as "Corkscrew" and "Kamikaze", there is a dolphinarium and different pools).
Benidorm: here you will find fishing on the island; water skiing; music concerts and circus performances in Benidorm Palace; water park "Aqualandia" (there are waterfalls, pools with artificial waves, water attractions "Zig-Zag", "Blackhole", "Pistas Blandas", "Splash", as well as a cafe and pizzeria, ATM, studio photography), a theme park " Terra Mitica "(serves to admire the enchanting show, ride 30 rides," visit "in Greece, Rome, Egypt, and other thematic areas), the beach of Playa de Levante with children's area (there are slides) jumps for water skiing, rolling point, showers, as well as the park "Mundomar", where you can see marine animals and show with their participation.
Sitges: offers - San Sebastian beaches (offers guests a range of services), and Fragata (you can spend time in the fields for games of volleyball, golf or soccer, water skiing), as well as the trendy disco "Atlantis" and "Pacha".
Spanish Coastline you will remember the colorful nature, warm sun, provinces and towns, the rich variety of attractions.
Photo