Entertainment in Spain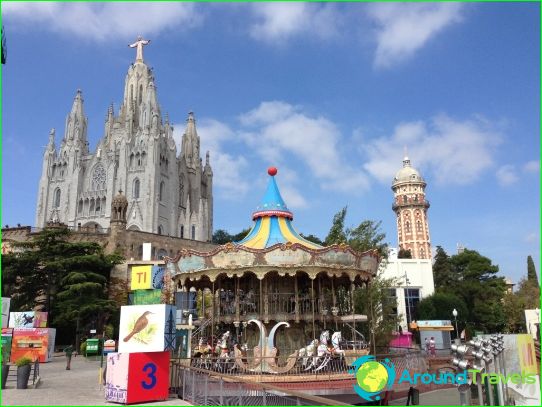 Spain - a country of bread and circuses. The Spaniards, as we like to eat tasty and dense to dine and celebrate with peculiar only to Russian human scale and reliability. Entertainment in Spain, what are they?
Miniature Catalonia (Barcelona)
It is the largest park in the world whereIt presented a set of thumbnails of various architectural monuments. All the monuments, palaces and cathedrals replicated to the smallest detail, but in a scale of 1:25.
150 works of the best architects of Cataloniaspread out in front of you. You will see the house, which was engaged in the construction of the great Gaudi, locks, bridges, towers, Salvador Dali museum, a magnificent Roman aqueduct. And all this miniature world lives its own life: rivers flow, are located throughout dwarf trees, and on the rails railways somewhere in a hurry train. It creates the impression that you look at this, the real Catalonia, but with a bird's-eye view.
The park is huge - 25 thousand sq.m. To carry out a complete examination is required for at least two hours. But a walk can be replaced, driving through the park in a special train.
Park Eagles (Las Americas)
The park is located just a few kilometers from thecity, representing a real tropical jungle. Here you can see the many representatives of wild fauna: tigers, lions, crocodiles, monkeys and many others.
But of particular interest are trainedeagles. Predators twice a day to show off their tricks for everyone. Time of the show: noon and four o'clock in the evening. At the other end of the park also hosts colorful performances, but the actors in these shows are toucans, parrots and other large birds.
Fans to tickle nerves like down the road vosmisotmetrovoy resembling a roller coaster. The attraction called «Jungle Raid».
walk in the park can take a few hours or a whole day. It all depends on your mood.
Club Gala CCCP (Lloret de Mar)
This is a classic Spanish disco, but thoroughly soaked Russian atmosphere. At the entrance you will meet the Russian-speaking staff, and on the floor playing a familiar Russian pop music.
At the entrance you will certainly will give the flyer givingthe right to receive a free cocktail. Do you want a T-shirt with the logo of institutions? Then just order an alcoholic drink, and to every third shotu will give you a free appendage. Just remember that for a portion will have to pay not less than 6 euros.
Enjoys Club success is not only ourcompatriots. Here, having a great time, the Germans, the Swiss and the Dutch, who also do not mind to take part in themed contests and appreciate the beauty of nightly striptease.
Photo