Restaurants in Spain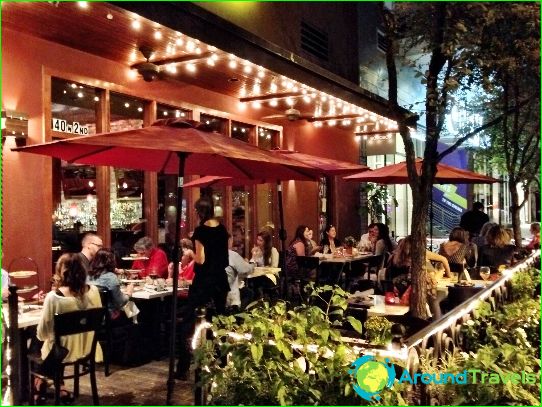 It is said that the concept of "Spanish cuisine" in natureIt does not exist, because in this European country have mixed up recipes and secrets of various peoples living in the Iberian Peninsula. For the curious traveler gastronomic research - an important part of the tourism program related to cognitive rather than to entertainment, and therefore to a choice of restaurants in Spain it is suitable as thoroughly as to the order of excursions. Others simply enjoy gourmet food and wine, and grateful for the donated minutes even gastronomic, but such pleasant pleasures.
Leafing through the menu
The fact that the paella came up with the Spaniards without a doubteveryone knows. But the fact that in each new city prepare it differently, guests can make my country and opting for lunch or dinner, new restaurants in Spain. The inhabitants of the Iberian Peninsula suggest that the methods of preparation of this dish of meat, rice, seafood and olive oil, there are about three hundred, and they are very offended when compared with paella pilaf or risotto.
Uncooked jerked ham jamon - the pride of any restaurant in Spain, and its variants sophisticated gourmets distinguish not only the flavor, taste and slices of transparency, but also the color of pig hooves.
Useful accounting
Prices for lunches or dinners in restaurants in SpainIt is consistent with the pan-European level and is very dependent on the status of the institution. It is easy to have breakfast, and can be for a couple of euros, if you choose a cup of coffee and a croissant at a cafe a little away from the tourist trails. Fast fudd a hamburger would cost slightly more expensive, but for lunch at the buffet during siesta you can spend no more than 10 euros. By the way, with 14 to 16 hours in institutions have the opportunity to order from the "menu of the day." It consists of a pair of quite hearty dishes and is much cheaper than usual.
Choosing a Spanish paella restaurants, touristrisks to get to 30 euros plus for the bank, but the size of its portions are usually enough for a family of three people, the more that the main course is always attached a set of free snacks.
Star gastronomic magazines
Gourmets all over the world trying to get into townRenteria in the north, where there is one of Spain's finest restaurants. Apart from the two Michelin stars Mugaritz boasts fourth place in the world rankings in the opinion of authoritative experts, who called the institution "the most important gastronomic phenomenon on the planet."
Photo