Spain River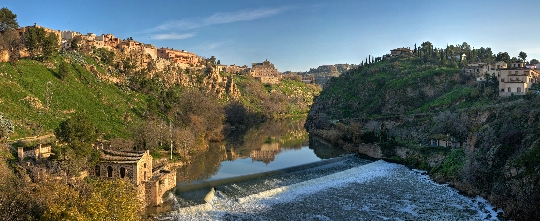 The majority of Spanish rivers are rain nutrition, which leads to sharp seasonal fluctuations in water level. The exception is the river, located on the north and north-west of the country.
River Guadiana
The bed of the river is the natural boundary,dividing the territory of Portugal and Spain. The total length of the river - 778 km. The source of the Guadiana - the plateau of La Mancha and next to Gulf of Cádiz (river mouth).
The river suffers from a large number of riversediment and also not too deep. But all this does not frighten the tourists having fun traveling to river cruises on the Guadiana. After all these river trips turn out surprisingly interesting. On the banks of the river you can see many picturesque ruins, well preserved ancient fortress. The bells of the temples, which are on the banks of the Guadiana is also quite a large number, discourage future. And then over the river rushes beautiful bells chime.
During the stops you can buy beautiful souvenirs made of stones found in the waters of the river.
River Duero
One of the biggest rivers flowing throughthe Iberian Peninsula. The source of the Duero is located in the Iberian mountains and then it carries its waters to the shores of the Atlantic, sinking into the ocean already in Portugal.
His path leads through the Duero Spainwine region of the country - Ribera del Duero. Then she "looks" in the city of Zamora and goes into a beautiful canyon in Europe, has taken on the role of the natural border between the two countries - Spain and Portugal.
River Ebro
Ebro is the second-longest riverIberian Peninsula, giving way to the first place of the Tagus. The source of the river is not far away from man-Embeyls lake del Ebro. The upper course of the river quite rough and it makes its way through the rocky gorges of the province of Burgos. Going down below, the river becomes more relaxed, helped by the expansion of its valley.
River Tahoe
Tahoe is the largest river of the Iberianpeninsula. The source of the river is in Spain, but ends its run Tahoe near Portugal's capital, Lisbon city, falling into the waters of the Atlantic. The total length of the river - 1038 km. Approximately 47 kilometers of riverbed Tahoe is a natural border between Spain and Portugal.
While still in Spain, Tajo passes through the territory of several provinces in the country: Aragon; Castilla - La Mancha; Madrid; Extremadura. Then Tahoe enters the territory of Portugal.
River Miño
The total length of the Miño only 340 kilometers, andShe, like many other countries of the river, belongs to two countries - Spain and Portugal. The source of the river - Cantabrian Mountains. In its upper reaches of the Miño - relatively narrow river. It was only after her water flows Sil (main tributary of the river), the Miño valley widens considerably.
Photo