Shops and shopping center in Malaga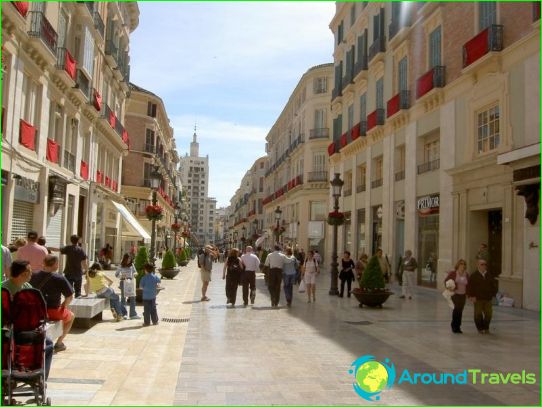 Malaga - Spanish charming town on the coastCosta del Sol. This is one of the cultural centers of Andalusia. The city has a university, where Picasso lived and worked, was born Antonio Banderos. Tourists visit the ruins of the Roman Empire, the Arab monuments of architecture, cathedral.
With the excursion program competes in Malagashopping. In the city there are mono-brand boutiques, shopping malls, art galleries. Most of the products that are popular with tourists, is available in Malaga at attractive prices.
Popular outlets
Central Market is located at Atarazansthe same street in a designated area. The market building once repaired the ships, it has undergone partial restructuring, partial restoration in the XIX century. They trade here in fruits, vegetables and spices, nuts and seafood. The cafe offers to taste dishes from the farmers' products. Market pleases the eye clean and well kept. Making purchases, tourists do not forget to pay tribute to Arabian architecture, elements of which have survived to this day.
The main shopping street of the city - Marques de Larios. It runs through the historic center and ends at the Plaza of the Constitution. This is a very nice area for walking. All of its buildings are constructed in the same architectural style by the engineer Jose Maria SELF. Shopping here is not great, mainly mono-brand.
Theme shop entirely dedicatedpassionate flamenco art, is on the street. Calle Caldereria in the Old Town. In Flamenka store you can select the disk with the music or video with dance as a souvenir, or buy a full suit for the performance of dance, not missing a single accessory to it.
El Corte Ingles - known Spanish networknot cheap department store with good quality products. In Malaga office is on Avenida de Andalucia. There is, for example, Boutique Tallas Grandes, which will help to choose the wardrobe lady, regardless of its size.
Felix Saenz - this shopping center is also widelyIt is known in Malaga. It is one of the oldest in the city. For those who are tired of modern "architecture" boxes under the shopping malls, enjoy shopping in the old mansion, which is the department store and with a variety of goods.
Centro Comercial Los Patios - another popularshopping center. It is larger of Felix, located on Avenida Velasquez, 141. There is a large selection of clothing, electronics, toys. There is a big supermarket where you can buy Spanish delicacies. If there is a need to bring home a ham, cheese and sweet wine Malaga, it is better to buy them in grocery stores. But for the purchase of products for immediate destruction of fit, such as the central market.
Photos Malaga stores