Water parks in Mallorca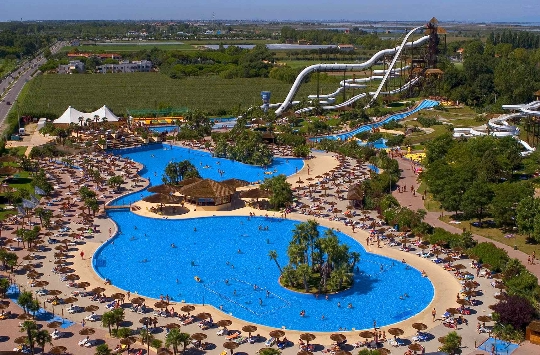 While vacationing in Mallorca, let yourself go in the water parks of the island - visit them for sure will leave in your memory spectacular and vivid memories!
Water parks in Mallorca
"Western Water Park" has greenlawn to relax, "wild river", a Jacuzzi, water slides ( "Tornado", "Big Hole", "Mega Slide", "Tijuana Twins", "Huracan", "Multipistas"), sauna, games for children in the form of mini amusement park Lagoa La Mina and Daky park pool (cowboy theme). In the "Western Water Park" (in the style of the Wild West) offers entertaining performances featuring birds of prey show acrobats (held three times a day) and cowboys offer to take photos of exotic animals, donning a cowboy hat and go on an underwater show. Information on prices - 25 euros / adult, 17 euros / children from 2 years, 77 euros / ticket 2 + 2, 90 euros / 4 adults. Additionally have to pay rent sunbeds (3.5 euros) and inflatable wheels (8 euros).
"Aqualand El Arenal" pleases guests slides"Tornado", "Anaconda", "Grand Canyon", "Herbie: Fully Loaded," "Banzai", shaded seating areas, Congo River and Surf Beach, a field for playing mini golf, restaurants. Entrance fee for adults - 21 euros and for children (3 years) - 15 euros.
"Aqualand Magaluf" equipped with adults "Tornado""Boomerang", "Super Kamikaze" slides and children's versions of "Black Hole" and "Super Slalom" cafe. There is also a lawn where you can lie down and sunbathe. And since the rest in aquapark photographs camera, the output can get a memorable photo. Adult tickets are sold at the price of 22 euros, and children - to 14 euros.
"Marineland" offers visitors not onlyspend time in the area with attractions ( "Super Slalom", "Anaconda", "Twister"), swimming pools and a pirate ship, but also attend the show of dolphins, sea lions and seals, as well as in the bird circus (playing the main roles are the pink flamingos parrots and other exotic birds). Adult tickets will cost 22 euros, and children (3-12 years) - 16 euros.
"HidroparkAlcudia" equipped with 5 swimming pools, 15attractions (descents in the form of slides, slides, spirals), designed for visitors of all ages. Information on prices - 17 euros / adult and 8 euros / children from 5 years.
Water Activities in Mallorca
Beachgoers can be advised to go to the beachesPlaya de Alcudia (white sand, vacation with children + paragliding and windsurfing), Portals Nous (here you can meet with celebrities, ride a leased jet skiing or kayaking), Playa de Palma (he earned the Blue Flag, here you can play beach volleyball, sailing, or take a ride on a motorboat), Cala d'or (and relatively quiet nemnogolyudny, famous for crystal clear waters, which means that you will have the chance to admire the colorful fish).
Photo