Water parks in Benidorm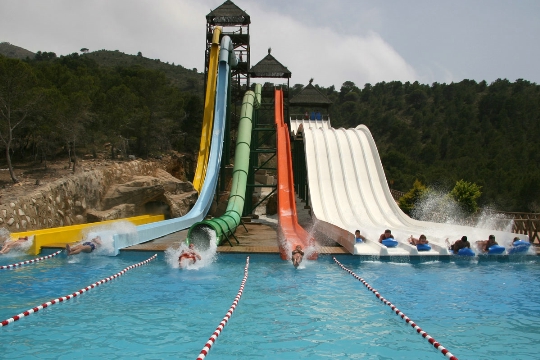 First of all on holiday in Benidorm should visit a local water park - it will surely please its guests the best entertainment and service.
Water parks in Benidorm
Water park "Aqualandia" features:
water attractions "Black Hole" (rafting oncovered hill in the dark), "Big Bang" (riding this roller coaster, "testers" will stay in a state of free fall), "Splash" (implies descent on a special mattress - you need to lie on your stomach), "Zig-Zag" (descent open slides, during which guests will cope with sharp turns), "Niagara" (at this point you can take the study of caves, "protected" waterfalls), "Laguna" (the pool has a slide, jumping from a height and suspension bridges) "Pistas Blandas" (5-speed parallel slides), "VertiGo" (3 seconds you get over 33 m);
artificial river Amazonass slow flow;
Adventureland section for children with swimming pools, water cannons, fountains and other entertainment;
Iguazu Jacuzzi with hydro-massage effect;
cafes, market stalls with snacks, gift shop, currency exchange, lost and found.
It should be noted that a total of "Aqualandia" There are several areas for children to play, 14 pools and 27 water slides.
Ticket prices: one day - 29 euros (children - 22 euros), evening (after 15:00) to 22 euros (children - 18 euros), family (2 adults + 1 child 4-12 years old) - 70 euros.
Waterpark "AquaNatura" pleases visitors gametown with 2 swimming pools, fountains, water slides and a castle; water slides (3 of which length reaches 104-123 m), in particular, "La Cresta" and "Rio Aventura"; a swimming pool with waves and geysers; bulk beach with sun beds; green area for picnics; several bars. Ticket valid all day, little tourists and people over 60 years will cost 23.5 euros, and large (from 13 to 59 years) - 29 euros.
Water Activities in Benidorm
You is important that the hotel had a swimming pool? Before you book a hotel in Benidorm, you should get acquainted with the peculiarities of the local hotels. For example, you can stay in the "Hotel Servigroup Nereo" or "Sol Costablanca".
Guests should visit the Benidorm park Mundomar- Then they will be able to see the show of sea lions and dolphins (extra charge you can swim with them or take pictures), as well as a show of parrots. In addition, the inhabitants of the park you can feed, including, and penguins. It is worth mentioning that this park - a great place for walks and picnics (equipped with special platforms), and little travelers enjoy here frolic in the children's village. Prices (all day): adult ticket - 29 euros for children (4-12 years) - 24 euros.
Well Beach lovers can headat Playa Levante (waterskiing + availability fenced playgrounds and slides), Playa Poniente (family vacation rental sunbeds cost 4 euros) or Cala del Tio Ximo (held in high esteem among nudists).
Photo