Dallas Airport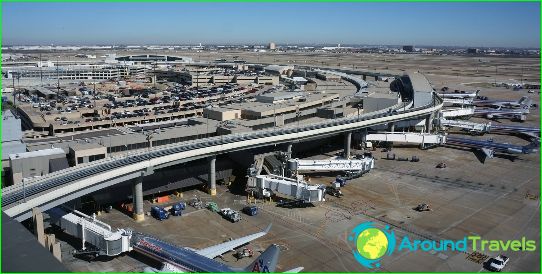 Airport Dallas / Fort Worth International Airport - the largestTexas Airport, it is located between the cities of Dallas and Fort Worth. The airport occupies third place in the world's busiest indicator - here performed annually about 700,000 takeoffs and landings. Also the airport in Dallas, ranked seventh in the world in terms of passengers per year - more than 60 million passengers. In 2006, the airport received the title of "world's best cargo airport."
At the airport are based are known airlines like American Eagle Airlines, Delta Air Lines and American Airlines is the largest company serving more than 80% of flights.
History
The history of the airport in Dallas starts from 1927of the year. Then the government of the city of Fort Worth has rejected a proposal for the joint construction of the airport and the two cities built by the airport. However, for the 60 years of the last century, the Fort Worth airport was closed, as only 1% of serviced flights Texas, against 49% of the Dallas airport.
In 1961, Dallas repeated his offerthe city, and in 1969 construction began. The first commercial flights from the airport began to occur in early 1974. After 3 months, the airport served more than 18,000 passengers a day. And in 1978, an American Airlines moved its headquarters to Fort Worth.
In the 10 years since the opening, the airport handledmore than 200 million passengers and more than 2.6 million tons of cargo. The steadily growing number of airlines cooperating with the airport. Since the opening the airport has 12 companies, and by 1984 there were 40.
In 2005, a new international terminal and Skylink high-speed train line was built.
services
Airport is ready to offer its passengers all the necessary services on the road. For hungry passengers in the terminals are open for cafes and restaurants offering dishes from different countries.
For children there are play areas.
Here you can also find banks, ATMs, post office, luggage storage, shops, etc.
For the rest presented relaxing treatments - SPA center, massage, etc. In addition, you can visit the sculpture garden, located on the territory of the terminal.
Transport
Airport in Dallas connected to the city by rail and public transport - buses and taxis.
Photos Dallas airport