Detroit Airport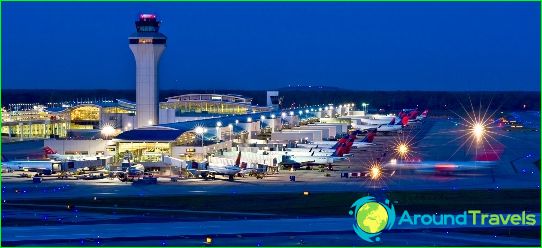 The main airport of the US state of Michiganlocated in Detroit. In addition to the Detroit International Airport serves Wine Country coming cities such as Toledo, Ontario and others. The airport has long been a leader in the US in terms of takeoffs and landings served.
In terms of passenger traffic the airport is included in thetwenty, serving about 32.5 million passengers a year. Most of the passenger applies to domestic flights, the annual number of international passengers is only 3 million.
Airport in Detroit has 6 runways, two long 2591 meters and 3048 meters and the runway length of 2654 and 3659 meters.
services
Detroit Airport is ready to offer its guestsa variety of services that you might need on the road. Hungry travelers can visit cafes, restaurants, snack bars and pizza - all find a dish to your liking. In addition, you can visit the shops that offer a variety of goods - souvenirs, clothes, drinks, including alcohol, perfumes, etc.
For people with children in the territory of the terminal there is a mother and child room. Also for children there are special play areas.
Tourists traveling in business class, expect your flight in a comfortable VIP-lounge.
Also at the airport has a conference hall for business meetings.
On the territory of the terminal there is a paid access toInternet. Passengers can also withdraw cash from ATMs or bank branches, currency exchange in the exchange, send email and more.
The company operates in the airport, with car rental, so tourists who wish to travel on their own, may apply to their office.
If necessary, passengers can always seek medical advice in the clinic or buy the necessary medicines in a pharmacy.
Transport
From the airport to Detroit and other nearbycities can be reached in several ways. An easier and cheaper option - a bus. From the terminal building buses depart regularly to dovezut passengers to the city for a small fee.
Alternatively, you can offer a taxi and rental car.
Photos Detroit airport