Airport in Houston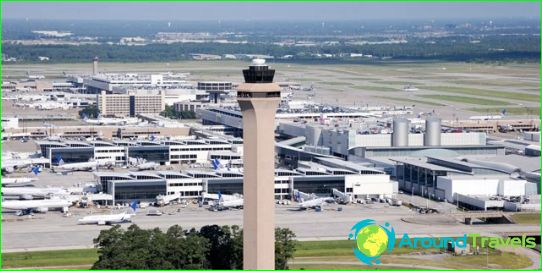 The international airport in Houston is named afterUS President George W. Bush. This airport is located about 30 kilometers north of the Texas city. He is the second-occupied territory, after the largest US airport Dallas / Fort Worth International Airport. Its area is 40 square kilometers. From here the route in many ways, ranging from flights within the country and ending with flights to Asia, Mexico, Europe, Africa, etc. Every year served more than 43 million passengers and performed more than 1,400 daily flights. According to these indicators Airport takes 8th position in North America.
History
The history of the airport in Houston starts with 60of the last century. Airport Delivery planned for the year 1967, however, due to constant changes in the plans of the construction period was delayed for another 2 years. The first flight was made only to the summer of 1969.
In 1997, the airport was renamed in honor of the 41 US President George Bush.
From the last significant events worth mentioningBoing 737-800 aircraft flight in January 2007. The aircraft performed a demonstration flight on bio-fuel, which eliminates pollution and crops.
services
There is no doubt that the airport, which occupies such a high ranking in the country and the world, should provide a variety of services to its passengers.
Houston Airport offers a wide range of services, among which in the first place, you can select a variety of cafes and restaurants. Any traveler will find a cafe or a restaurant that meets his needs.
For children there is entertainment room and a room mother and child. On the territory of the terminal working animators, and for school-age children are held interesting excursions.
For business travelers there is a business lounge with access to a computer, fax and internet.
Also at the terminals with free wireless internet.
Among the standard services can be noted, banks, ATMs, post office, currency exchange, etc.
For lovers of shopping, the airport offers a wide variety of shops offering a variety of goods - from souvenirs to clothes.
Transport
It can be reached in several ways from the airport in Houston:
Bus №102 regularly sent to the city from the terminal C;
The nearest hotel can be reached by minibus, telephone numbers for ordering are available at points of the baggage;
In addition, the passenger can always usetaxi. There is a list of destinations that are paid at a fixed rate. When traveling to the items in the list are not available, transportation is paid for mileage.
Photos Houston airport