Airport in Philadelphia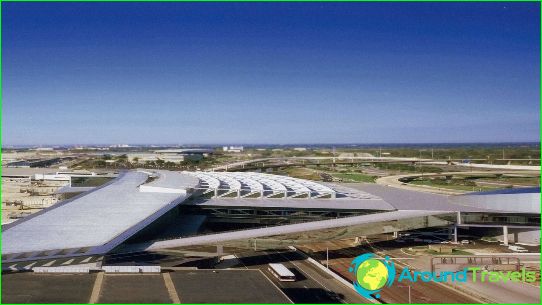 One of the oldest airports in the United States servingthe city of Philadelphia, Pennsylvania. The airport is an important transit hub for US Airways airline. It has air links with cities in the US, Latin America, Canada and Europe.
Philadelphia Airport has fourrunways, all covered with asphalt. Their length 1524, 1981, 2896 and 3200 meters. Every year served about 31 million passengers and performed more than 460,000 takeoffs and landings.
History
The history of the airport in Philadelphia begins with20-ies of the last century. Then it was used as a training base for the State Guard. Since the 1940s, the airport offered to use as a civilian, but at that time he did not have a passenger terminal. Immediately after its construction the airport began to cooperate more airlines, among which are the American Airlines. By 1950, the airport has four runways, but they were insufficient length, a little over 1500 meters. By the 70 th year of the runway several times lengthened.
After the war here began to make the first flights to Europe. Also, several passenger terminals were built.
To date, the airport in Philadelphia is one of the busiest in the world. Its rapid growth is due to the arrival of the US Airlines Airport Company and Southwest Airlines.
However, the development of the airport was not without problems. For example, fuel for aircraft is delivered separately to each, it creates some delay flights. Also, very often there is not enough parking spaces, of which a total of 17000. However, despite all these problems, the airport continues to strive to provide the best possible service.
services
Philadelphia Airport has a largethe number of services. Here you can find more than 100 food items. Also at the terminals it is large area of ​​shops and entertainment services. Of course, there is wireless internet access.
Standard services such as ATMs, post office, luggage room, etc. available.
Transport
Airport has a well-established communication with the city. Before Philadelphia can be reached by bus or train, train / railway station is not far from the airport.
There are also taxi services to the value of fixed - 25 dollars.
Alternatively, you can offer a rental car. On the territory of the terminal operating company tenants.
Photos Philadelphia Airport