Seattle Airport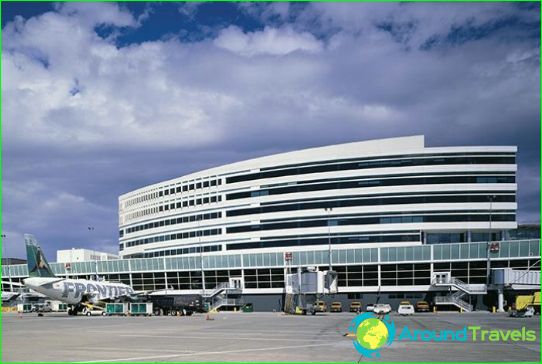 Airport Seattle / Tacoma - the largest state of the airportWashington, which is located between the cities of Seattle and Tacoma. Airport takes 18 place in the United States in terms of passenger traffic, it serves more than 30 million people annually. Also, the airport is 25 and 19 in the world in terms of improved takeoffs and landings, and an annual turnover of goods, respectively.
The greatest number of flights servingAlaska Airlines airline for which the airport is a major hub and headquarters. Also among the major airlines operating from the airport, you can select Southwest Airlines and United Airlines.
History
History begins in Seattle Airport from 1944years after the opening of the airport is temporarily used by the US Air Force. Regular passenger flights were resumed in 1947, and two years later became an international airport, having made the first flight Seattle-Tokyo. made to improve the runway in 1959 and 1961.
In 1966, the first flight to Europe was made. In the period 1967-1973 gg. the airport has improved significantly - terminals were built, the runway, hangars, aircraft, etc.
Since the beginning of 1970 the airport begannumerous conflicts with residents of the city. First, there were complaints about the noise, which is why the airport has spent over a million dollars on equipment nearby buildings soundproofed.
Later leadership wanted to assign the name of the airport by Henry Jackson, this decision again were discontent due to attempts to remove the name of the city from the airport name.
Recent conflicts have arisen in 2000, whenit was decided to build a new runway, which caused dissatisfaction of citizens - the noise, air pollution, etc. The protests lasted until 2004, and the new runway was opened in 2008.
services
Seattle Airport offers a variety of services. On the territory of the terminal there are numerous cafes and restaurants serving the most delicious and fresh cuisine.
There are also ATMs at the airport, mail, luggage storage, etc. On the territory of the terminal is free Internet Wi-Fi technology.
A large number of shops, allows you to buy various goods waiting for their visitors.
For Business Class passengers have a waiting room Superior.
Transport
Before Seattle can be reached by subway, which goes about every 10 minutes from the station. Opening hours from five in the morning until after midnight.
Alternatively, you can offer buses or taxis.
Photos Seattle Airport