Chicago Airport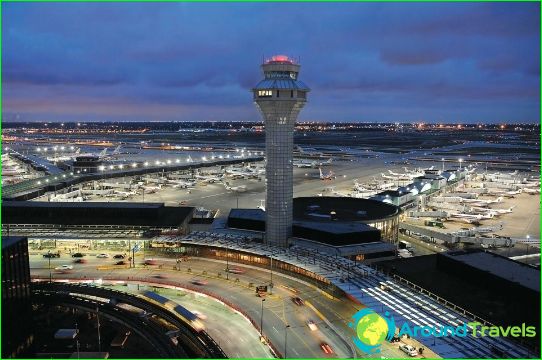 The city of Chicago is served by two airport. The most popular is the main international airport, which is called O'Hara is about it will be mostly written in this article. The second most important is the Midway Airport.
O'Hare Airport
The airport is located about 30 kmnorth-west of the Chicago Loop district. It is the largest known hub for United Airlines American Airlines, which carries nearly half of all flights. Also, the airport is an important hub for American Airlines company.
Every year there are committed about a million takeoffs and landings - for a long time, the airport was ranked first on this indicator. However, in 2005, he lost to the Atlanta airport is the place.
O'Hare Airport is working with many airlines and takes aircraft out of 60 airports in other countries.
terminals
The airport has 4 active terminal, the construction of additional buildings is planned.
International Flights Terminal serves 5Terminals 1,2,3 respectively - are responsible for flights within the country. Terminal 4 was rebuilt under the base for buses, shuttles, and other ground transport, immediately after the construction of the international terminal 5.
services
The airport offers passengers a variety of services needed in the way: ATMs, post office, coffee shop, luggage storage, etc.
Transport
The city can be reached in several ways, the most popular - Chicago Transit Authority (CTA), here on a tourist train can easily reach the city center.
And, of course, their services offer buses and taxis.
Popularity
Chicago O'Hare Airport is very often appears invarious movies and television shows. As an example, all known movie "Home Alone" 1 and 2. In both parts of the main characters of the film sent from the terminal 3.
Midway Airport
The airport is located about 10 km from the centercities. The main airline, which makes their flights out of this airport is Southwest Airlines. Every year the airport served over 17 million passengers.
Accordingly, for the Chicago Airport is the second largest, after the above-described O'Hare Airport.
Both airports are the largest in Illinois.
Photos Chicago airport