Christmas in Chicago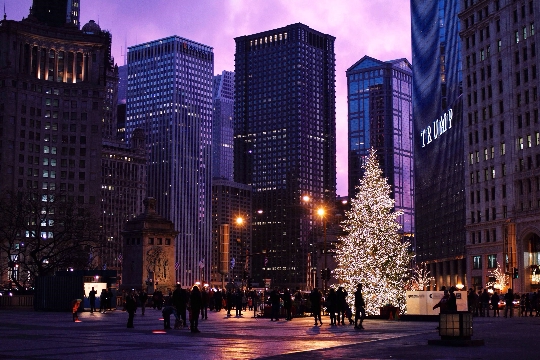 Arriving on Christmas in Chicago, you'll see the main square and downtown streets, buried in a golden color, with festive illumination are not deprived of any facades or shop windows.
Features of the celebration of Christmas in Chicago
The decoration of the streets and houses (on the door hang wreaths offir branches and colorful ribbons on a window - colored light bulbs, lights, in the family living room set Christmas tree, dressing up her toys and balls with the image of angels, and the owners of the houses put up in front of their homes figurines of angels, the Virgin Mary, Santa Claus and his assistants) Americans begin to engage with the end of November - at the same time open up rollers and allocated space for shopping malls.
Americans celebrate Christmas on the 25th nightDecember - this time in the church service and gala performances are played by the birth of Jesus. On the festive table is usually exposed turkey, beef, goose, ham, brandy, rum punch, whiskey. But tourists for Christmas dinner should go to the restaurant "Everest".
Entertainment and celebrations in Chicago
If you want to listen to Christmas songs, yoube glad in Millennium Park - Dress warmly and be prepared to listen to the choral chants. And because of this park there is also an ice skating rink, then you will have a great opportunity to go skating.
On Christmas Eve, it is recommended to visit the theater district of Chicago - he will give you a wonderful prime ministers (in some theaters and comedy clubs in the evening will be held - the performances).
From mid-December to early January, Chicago offers to visit the Festival of Lights in the Lincoln Park Zoo (wonderful view opens from the Zoo Bridge).
Do you want to mark the Christmas holidays on a yacht? It features Santa's party on a yacht - Yacht Party Chicago's Santa Booze Cruise (you will be offered to participate in fiery dance, wear Santa hats and spend time in the company of a living symbol of the Christmas holidays).
With children is worth heading to the Shedd Aquarium - educational activities and performances will be held here.
Christmas fair in Chicago
From 28 November to 24 December at the Daley Plaza Squarestarts functioning Christmas Fair Chirst Kindl Market - open trade pavilions and stalls selling souvenirs of handmade wooden toys, Christmas decorations, figurines of angels, jewelry boxes, ceramic mugs, and in specially built houses you can relax and have a meal Christmas pastries, hot snacks and beverages. Having come to the fair with their children, they can please the visit the children's rides, puppet theater and workshops, where they will hold a seminar on the modeling of various souvenirs.
In December, sales in the period, it should be heading to the numerous shops located in the neighborhood "Magnificent Mile".
Photo