Chicago Streets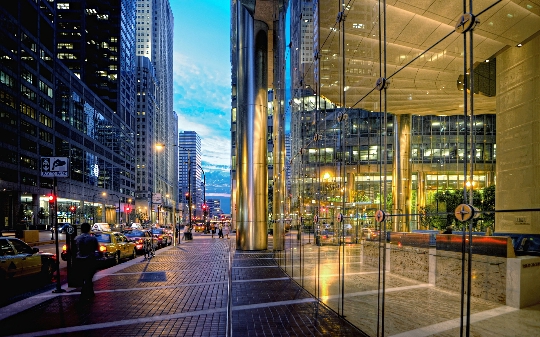 Among the most famous cities in the United States relatesChicago. It is a major transportation hub and financial center of the state, located in Illinois. It occupies the south-western shore of Lake Michigan. Chicago Streets began to take shape in the mid-19th century. The status of city streets they received in 1837. The development of the railway sphere contributed to the rapid growth of the city's popularity. Gradually it became a transportation center of the country. Many Chicago streets seriously injured during a grandiose fire in 1871. The buildings were restored and acquired a new look.
The streets of the business district
The city center business quarter Loop. The architecture there is based on the high-rise buildings. The first skyscraper in Chicago was built in the business district. This place is a building of the Chicago Mercantile Exchange, the Willis Tower, the national monuments of American history, and other objects. train lines, which pass through the Loop area, form a loop around the center. The business area focused theaters and exchanges.
The main trade artery serves State Street. Beautiful plot area is considered the Magnificent Mile. This place has the best boutiques, presenting a collection of famous and best brands. From sights it should be noted the water tower, there are more than 200 years.
Old city
In this part there are vintage Chicagothe buildings. Central highway is Wells Street, where operating a variety of restaurants and boutiques. In the historic center you can see the building, rebuilt after the great fire. Old Chicago is a landmark in itself. He has kept the atmosphere of the 20th century. In the oldest part of the city is the oldest of his church. This is the church of St. Michael, which attracts tourists. Between the water tower and the Lincoln Park stretches Gold Coast - chic district with elite mansions.
Michigan Avenue
The main and busiest streets of Chicagorefers Michigan Avenue. It is full of skyscrapers and shopping malls. It is a commercial center of the city, where trade is concentrated. Michigan Street called casual and gold. It is characterized by constant movement, space and specific atmosphere. The street is surrounded by greenery and flowers. Nearby parks and lakes. a two-level bridge was first built on this street. Another famous attraction Michigan Avenue - the statue of the actress Marilyn Monroe. Along the street boutiques of famous brands and restaurants. It is considered to be the end of Lake Michigan.
Photos of Chicago Street