Suburbs of Chicago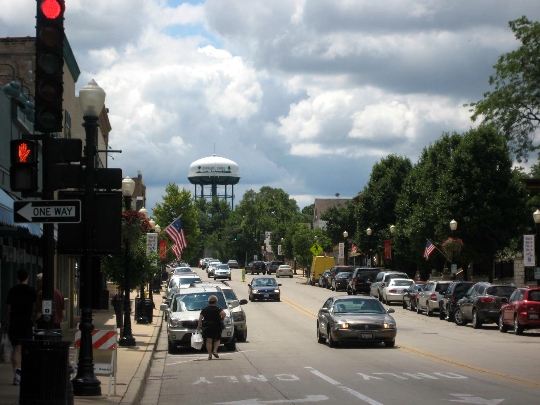 The third largest US metropolisLocated on the shore of Lake Michigan. He is often called the city of winds and a magnificent panorama of Chicago skyscrapers - one of the most recognizable urban landscapes in the world. Suburbs of Chicago, on the other hand, low-rise and quiet. Here sleeping areas are located on the title of a particularly interesting tourist sites in the city are unlikely to ever qualify. However, some of them have amazing sights that make travelers to climb in Chicago hinterland.
451 degrees Fahrenheit
Cult of Ray Bradbury novel was written inrent a typewriter at his home in a suburb of Chicago. Today Waukegan - a place of pilgrimage for fans of romance and creativity Bradbury. There remain those described in the book of the fire, where he worked as the main character, and the public library, which now can be seen wanting to read paper books, despite the come century electronic.
Among the architectural sights of thisa suburb of Chicago stand a lighthouse, which in 2012 celebrated its hundred years and Genesee Theater historical building, erected in 1927. The natural beauty of the surroundings Waukegan protected and are in the status of nature reserves - only lakes in the county more than a hundred.
Carillon in Illinois
The musical instrument, which is not involvedless than 23 bells, the carillon is called. They are usually located on the city towers and church belfries, and clock mechanism makes carillon perform certain melody several times a day.
One of Chicago's suburbs listens ownchimes since 2000, the Independence Day. Neypervill town with the advent of Moser Tower, which is set musical instrument, became an international celebrity, and the glory of the Millennium Carillon crossed the border not only the state but also the entire country.
The tower was built on private donationspeople who want to write their names in American history. The four sides of its core values ​​embody the town - family, education, society and commerce, and the number of bells cast in the Netherlands greatly exceeds the required minimum - 72 handsome bronze play every hour a great melody.
The tower itself shot up into the sky at 50 meters and itsheight is slightly larger than the Statue of Liberty in New York. The observation deck, which offers magnificent views of the Chicago suburbs, is located at a height of 14 floors. Climb on it can be calm clear day, breaking a plurality of stages.
Photo