Areas of Chicago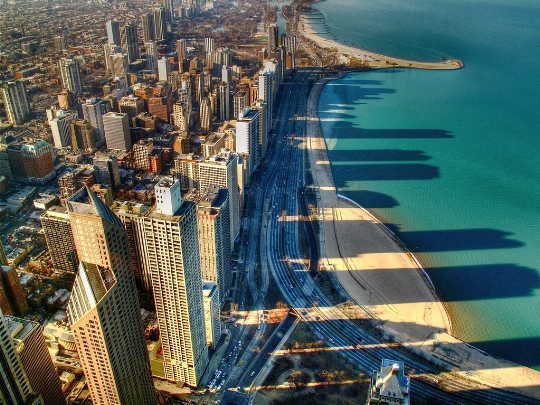 Chicago area are clearly visible on the map - theydiverse, they have their own characteristics, and today there are more than sotni.K Chicago areas include Albany Park, Beverly, Barrington, Chatham, Budlong Woods, Forest Glen, Goose Island, Hyde Park, Lakeview, Lincoln Park, Little Village and others.
Description of the main areas and attractions
Chicago Center: known area of ​​The Loop - in the streets set Picasso sculpture, Chagall, Calder, Dubuffet; He is famous theaters Chicago Theatre and Cadillac Palace Theatre, skyscrapers Willis Tower (it is recommended to climb the Skydeck observation deck, which has a glass floor) and the Aon Center (has 83 floors), the Chicago Chamber of Commerce. From the north to the Loop adjoins another district - Near North Side: its street Magnificent Mile travelers will appreciate the luxurious restaurants and shops. And the area has a Water Tower, and John Hancock Center.Stoit noted that downtown Chicago is a recreational area with Lake Michigan and the Chicago River, which are organized boat trips and cruises; Park, Grant Park (there are jazz, blues festival "Venetian Night", has facilities for recreation and green squares) and the park Millennium Park (visitors please free concerts, tours, exhibitions, they will be able to take a photo on the background of the fountain Crown and flowering plants Lurie Garden, walk along the promenade, to look into the Harris theater, winter ride on a free ice skating rink, and in summer - to sit in the open air restaurant).
Northern areas: they are known River North (features art galleries, as well as the popular clubs concentrated on Rush Street Street), Gold Coast (expensive city area with boutiques and historic mansions, where you can see the castle Potter Palmer), Lincoln Park (in summer it is recommended to attend the concerts, carnival processions, performances at the theater on the water, the park has golf courses, the beach "North Avenue", a zone for fishing, the nature Museum, the zoo, which is inhabited by bears, cheetahs, lions, monkeys).
Southern region: consists of Bronzeville (worth admire the houses, which are a reflection of Gothic, Romanesque and Victorian styles), Bridgeport (worth a look in "Maria's" bar to enjoy a rare beers and a variety of cocktails, as well as look at the game of baseball club ChicagoWhiteSox), Hyde Park ( interest is the Museum of industry and science, The University of Chicago and park areas).
Where to stay tourists
it is recommended to stay in Chicago touristshotels Loop area, Near North, Lakeview. It is worth noting that the areas in downtown Chicago are prestigious and expensive: here guests will be glad to restaurants with gourmet cuisine, boutiques with branded collections, hotels, the windows of which they will be able to admire the urban landscape. As for the southern areas, they are not the best places for tourists because of the settlers living there from Mexico and Africa.
Photos Chicago area