Airport in Las Vegas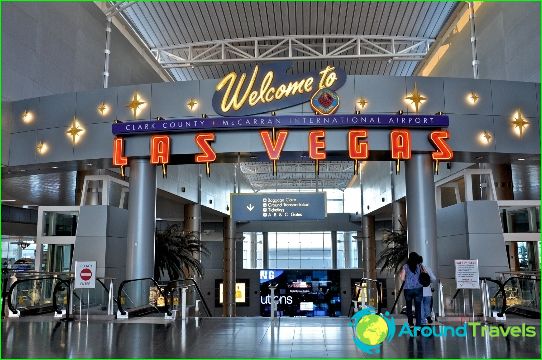 The city of Las Vegas is a major commercialClark County Airport - McCarran Airport. It is situated about 10 km from the main business district. Airport area is 11 square kilometers.
Airport occupies an important position in terms ofpassenger traffic and improved takeoffs and landings - it annually serves nearly 50 million passengers and 600,000 flights Bole. Airport in Las Vegas is a major hub for Southwest Airlines Company, which serves one-third of the total flow of passengers.
By 2017, the airport plans to achieve its maximum capacity, which is about 53 million. Passengers per year.
History
The history of the airport in Las Vegas starting from 1942year, it was then aviator George Crockett founded the Alamo Airport. After 6 years, he was bought by the municipality and the county renamed McCarran Airport. Already in 1948 the airport was served about 1.5 million passengers.
In 1963 a new terminal was built,will increase the capacity of the airport. And after 15 years, it was developed airport development plan, which was carried out in 3 stages. Financing to achieve the plan was due to issue bonds (debt).
Since early 2005, the airport began to provideits passengers access to wireless Internet. Area wireless communication was about 180 thousand square meters -. The world's largest coverage area at that time.
In spring 2007, a large parking lot for 5,000 seats was opened near the airport.
services
Airport in Las Vegas offers a variety of services to its passengers. Many cafes and restaurants are waiting for their visitors. A large area of ​​duty-free shops, allows you to buy the necessary goods.
On the territory of the terminals operate bank branches, ATMs, post office, exchange office, pharmacy, etc.
For entertainment at the airport there are slot machines.
Also, 11 companies operate here, offering car rental.
Transport
From the airport to the city sent several bus routes - №593, 215 and 108.
Between the terminals and parking free shuttle bus 109A.
Also in the city can be reached by taxi or rental car.
Photos Las Vegas Airport