Water parks in Las Vegas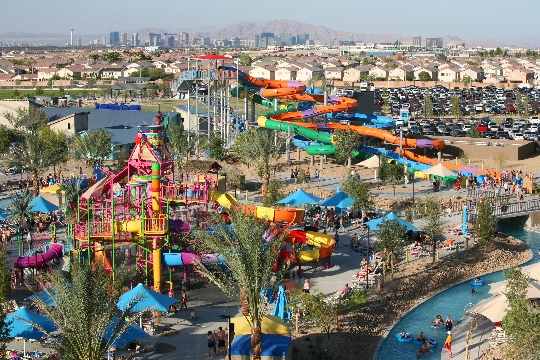 Las Vegas attracts not only lovers of nightlife, but also families with children, thanks to the available water parks here.
Water parks in Las Vegas
Waterpark "Wet'n 'Wild Las Vegas" has 25attractions, such as multicolored pipes and gutters with high-speed lanes and unexpected turns - deserve special attention "Rattler", "Royal Flush Extreme" (swept inside the tubes, "test" will be thrown into a giant ball), "Constrictor", "Hoover Half Pipe "(" test "awaits the rise on an inflatable raft and a sharp descent); pools, along which the trees grow; lazy river; Splash Island (5 playing areas, a huge bucket of water poured on the heads of guests, 9 rides); catering. It is worth noting that the hotel "Wet'n 'Wild" will be able to surf, go to "cruise" along the steep river on inflatable ring or water skiing on the lake. Important: the water park is not precluded from bringing their own swimming facilities, but before you use them for skiing, the water park experts have to approve their use. Entrance fee - $ 40.
Waterpark "Cowabunga Bay" apart from the wave andchildren's pools, a lazy river and other water attractions, features a unique slide "Surf Safari" (guests waiting for the descent at high speed in the dark with a height of 6-storey building, after which they are driven by a giant wave, are "thrown" into the pool, but before that they will have to carry out the rotation along the entire length of the wave). The approximate cost of a visit - $ 30.
Water Activities in Las Vegas
Are you interested in such entertainment as dailyswimming in the pool? Then you should stay in a hotel that has a swimming pool - "Belaggio", "Marriott's Grand Chateau", "Wynn Las Vegas" or other.
Attention Guests Las Vegas deserves the Aquarium"Shark Reef" (entrance fee - $ 18 / adult and $ 12 / 5-12 year-olds) in the thematic areas of the aquarium inhabited by sea turtles, sharks, exotic fish, jellyfish, stingrays, miniature zebra shark, and besides, there they He will wait for the "golden" alligator, Burmese python, emerald lizards, Komodo monitor lizard.
As for the adults who havediver's certificate, they "Shark Reef" offers the opportunity to swim among the marine life and scuba diving (duration - 45 minutes, the approximate cost - $ 650).
As entertainment in Las Vegas worthvisit the casino "Venetian" - here you can not only test your luck, but to be in the American Venice, where gondolas float real (do not miss the opportunity to ride on a gondola) and gondoliers singing songs.
Photo