Areas of Los Angeles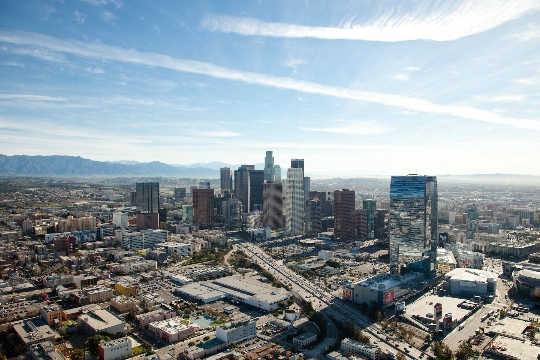 When meeting with a city map, you can see thatLos Angeles area is divided into 80 areas, including - East, West, South, Central, Hollywood, South Bay and Harbor, San Fernando Valley, Wilshire, Mid-Wilshire and others.
Description of the main areas and attractions
Downtown: a district office, so on the streets after 18:00 on weekends are usually deserted, but the tourists might be interested in Walt Disney Concert Hall, skyscrapers "Arco" and "Bonaventure", areas of Little Tokyo and Chinatown, Olvera Street with Street Art and natural science museums, the museum of modern art.
Westside: to the west of Los Angeles to West Hollywood (you will walk on the Sunset Strip, clubs, art galleries and fashionable shops), Century City (famous shopping center), Brentwood (famous Getty Center, which is a repository of art; 5 pavilions are located exhibits with paintings, graphics, manuscripts), Beverly Hills (interest of celebrities and home shopping area Rodeo drive).
Hollywood: this is the most attractive place for travelers, the famous "Walk of Fame", the Kodak Theatre, Grauman's Chinese Theatre (you can get a ticket for the tour of the theater or Hollywood film session), film studios, Griffith Park (its territory is an observation deck, an observatory, a planetarium, children's rides, a golf club, museum Travel Town, the Greek amphitheater where concerts are held in the evening).
Santa Monica: pay attention to the promenade with shops, cafes with varied cuisine and live music pouring from everywhere, as well as look at the Art Museum and the Heritage Museum. Rest on the coast of Santa Monica hanging fit fans of quiet and noisy company (on the coast there are 7 items and volleyball courts, where you can rent watercraft, but right at the pier located amusement park with a Ferris wheel). It is worth noting that in the summer there are concerts on a regular basis.
Wilshere and Mid-Wilshire: invited to visit the Museum of Art and the Automobile Museum Petersen, walk through the shopping area - Wilshire Boulevard (here focused nightclubs and shops).
Where to stay tourists
The purpose of your visit to Los Angeles - surveyattractions related to Hollywood and cinema? You should pay attention to the hotels in the Hollywood neighborhood (there are hotels of different price categories).
Enjoy the glamorous life of a travelerwill in Beverly Hills (a chance encounter with a star), but to feel the appropriate atmosphere and experience positive emotions in the area is better to choose expensive hotels.
Do you want to be closer to the ocean and to be able to meet on the banks of the sunrise and sunset? Choose the area of ​​Santa Monica (better to book hotel on line 1).
Photos Los Angeles area