Beaches in Los Angeles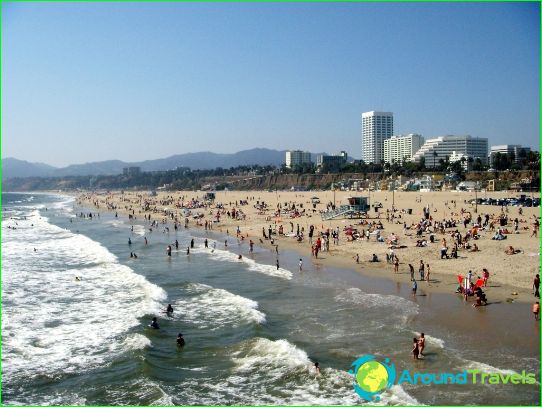 The third symbol of California, after Disneyland andHollywood sign are the beaches of Los Angeles. They were about twenty. If you have never been to Los Angeles County before, you may be surprised to discover that Los Angeles beaches are not as sunny as you expected. Should the temperature rise, immediately cool and moist sea breeze blowing on the beaches, misty blanket covering them. It is so often the case in the early summer, that Californians phenomenon called "June gloom", though these are fogs in May, and sometimes - in July and August.
Sometimes the fog and low clouds disappear early, butsometimes the sun can not appear until the second half of the day. Even on cloudy days, ultraviolet light passes through the cloud, so here is useful sunscreen.
So, the best sandy beaches of Los Angeles.
1. Venice Beach
This is one of the most famous beaches in Los Angeles,let his name is consonant with the name of the Italian city on the water, the similarities and pumped. Life California Venice is closely connected with the film industry. And it is in his own romantic. There were shooting film "Speed" with Sandra Bullock. Richard Gere is shone on the set of the film "Breathless". Even TV's "Baywatch" was filmed here, and not on the beaches of Malibu. So Venice Beach - in a sense, is world famous for. After all, the main role is played not surf and sand, and lively action on the sidewalk, represented by street performers, artists, skaters in bikinis. Here crowds of gawkers and vendors vying offer all kinds of spices, and sarongs. Ubiquitous Hare Krishnas, fancifully twisting dancers and other colorful characters - regulars Venice Beach.
2. Manhattan Beach
Manhattan Beach almost behind the Venice Beachby the number of shootings. Only here, at the beach, worked on their TV crew show. It seems that there are literally gathered all the beautiful people of the city, park their cars shiny. And flash the big sunglasses.
People of modest busy beach volleyball, and pier near the saddle its board desperate surfers. And at the very end of the pier - a huge aquarium with curious specimens of sea creatures.
3. Malibu
Here we have reached and the above beachesMalibu. This place has long been a Mecca for surfers. But before to try on a new suit, think about it safer still remain a spectator. Water rolls ashore here, and at this time surfers with passion strive to catch the most perfect ocean wave on which you can race indefinitely.
4. Santa Monica
Located north of the eponymous pier beachSanta Monica attracts many visitors California. This is one of the most popular beaches of Los Angeles. The strip of golden sand stretches for two miles and it seems that it is no end in sight. It is spacious, you can just stretch out in the sun without risking prevent wishing to play beach volleyball. Yes, and there is enough room for cyclists.
Photos beaches in Los Angeles