Metro Los Angeles: map, description, photos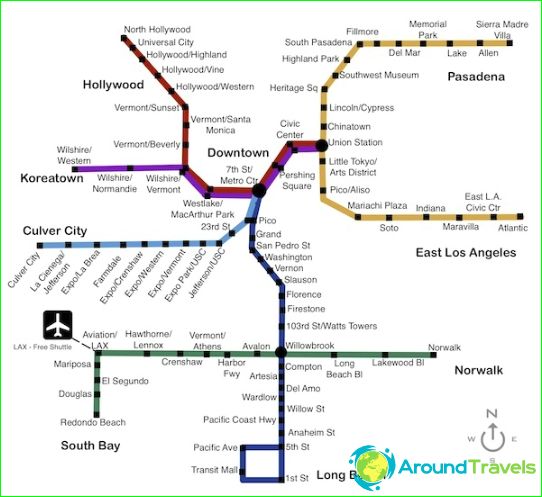 Metro map of Los Angeles
Metropolitan Los Angeles is relatively young. The first metro line was opened in 1990.
At the beginning of the century Southern California has extensivenetwork of private railway lines with a length of over 1,600 km. However, due to uneconomical since 1927 began the transition from the railway connection to the bus.
During the Second World War, the railwaysbriefly returned to profitability due to large-scale troop movements, but after the war, the authorities began to dismantle the entire rail system. Thus, by 1963, all railway lines have been completely removed and replaced with bus service. In the following decades, with the increase in traffic and an increase in gasoline prices, as well as the number of traffic jams on the roads with public support began planning railway traffic. In 1976, the State of California formed commission on transport County of Los Angeles, and subway construction was started in 1985.
Due to the geographical position of the city inseismically active region, all the tunnels have been constructed taking into account the opposition earthquake to 7.5. The rolling stock was purchased by the corporation Breda (Italy), is powered by a third rail. Currently, Metro Los Angeles consists of six lines: two subway lines (red and purple lines) and four divided light metro lines (blue, green, gold and Expo Line), serving a total of 80 stations. Easy subway is a Light Rail train and MetroBus, carrying out transportation on rails located on the surface. The total length of roads is 140.5 km (2012), the average ridership on weekdays is 362,904 people.
Hours Metro Los Angeles
All subway lines in Los Angeles working from 5 amuntil midnight, seven days a week. On Friday night and Saturday the metro runs until 2am. The interval in the movement of trains is 5-10 minutes during the peak period, every 10-15 minutes during the day and on weekends and every 20 minutes at night before closing. The exact time will vary from route to route.
Tickets in Metro Los Angeles
The standard rate applies to all trips. The fare is currently $ 1.25, the cost of the ticket for the day - $ 5 for a week - for $ 20 a month - $ 62. Each line requires a separate fare. Tickets for the underground can be bought from vending machines in the lobbies of stations. To pass the metro turnstiles should be used with validators. The passage is free, but the controllers operate on the routes.
Metro Pictures in Los Angeles