Shops and shopping centers in Los Angeles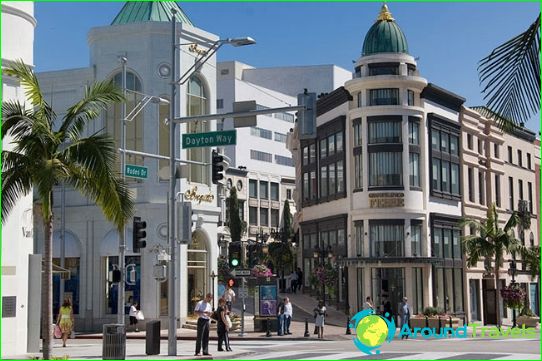 Los Angeles - the second largest populationUnited States town, and together with its satellite towns it forms the center of Greater Los Angeles, with a population of about 17 million. Man. Megapolis is a world center of culture, science, economics and education. And, of course, is the center of the entertainment industry. On top of the city is located on the shores of the Pacific Ocean and striking sandy beaches with ocean surf.
A city with such economic and geographicalcharacteristics required to have an extensive trading network. Many tourists visit Los Angeles just for the sake of its stores. Still - nice price, huge selection, always present shopping centers in each district.
Popular outlets
Rodeo Drive is known for every romanticrepresentative of the beautiful half of humanity. After all, this is where Richard Gere character from the movie "Pretty Woman" spends on clothes heroine Julia Roberts "obscene" amount of money. The characters of the series "Sex and the City" also pays tribute to the shops of Rodeo Drive. And the shops here, fortunately, there are also some from the middle price segment, although more and more types of Prada, Chanel or Cartier.
Wilshire Boulevard is a continuationRodeo Drive. To the numerous boutiques are joining restaurants and nightclubs. Most large department stores of the city are also here: Saks Fifth Avenue, Neiman Marcus and Barneys New York. At the confluence of these two streets located jeweler Tiffany giant. On small streets perpendicular to the boulevard are the most pleasant for a purse shops with casual clothes.
On Hollywood Boulevard off forsouvenirs. They are associated more with the cinema. This is not surprising - the Hollywood Walk of Fame is located on the Boulevard, then handed the Oscar, too - "Kodak" in the theater. If you notice on the street Jack Sparrow or Marilyn Monroe, do not be surprised, it is necessary to be photographed with them.
From Los Angeles you must bring jeans. Multibrand store Dentima is, for example, on Melrose Avenue, called Planet Funk. However, Dentima lovers will find a new things to taste in any area of ​​the city at an attractive price. And in the shop at the Jet Rag Brea Avenue on Sunday comes communism, and any little thing you can buy for $ 1.
American Rag Shops and Celebrity Closet RaidersShop - cult for fans of vintage style. But the price !!!! - Very expensive. It is better to visit the Sunset Boulevard West - affordable prices, even a second-hand.
Quite remarkable second-hand network «It's aWrap! ». They sell clothes with shoulder Hollywood stars. Film studio sit here the contents of their costume after finishing work on this or that film. ridiculous prices, and things often legendary. Shirts, dresses and jeans, you can buy the kilos.
Pictures of Los Angeles stores