The suburbs of Los Angeles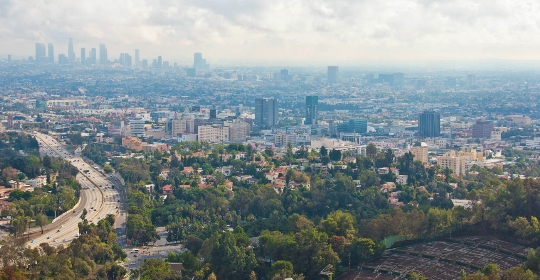 City of Angels - a cherished dream of manyRussian tourists. One of the largest centers in the world of the entertainment industry, it offers a wealth of attractions, magnificent ocean beaches, magnificent shopping and the ability to face any cafe or on the boulevard toe to toe with the celebrities of the world scale. At the suburbs of Los Angeles is one of the largest urban agglomerations in the world, stretching along the Pacific Ocean for more than seventy kilometers.
Nine letters on the hill
One of the main attractions of the suburbsLos Angeles - nine huge letters on the hill of Mount Lee, appear in cutscenes many American films. HOLLYWOOD inscription is visible from different areas of the city, and its appearance in 1923 was due to the advertising company of new residential areas. The height of each letter - 13.7 meters, and the approaches to the business card of this suburb of Los Angeles police are protected by CCTV.
Little Russia
West Hollywood was chosen by formercompatriots, and therefore there is no problem to satisfy the nostalgia for his homeland. Restaurants Russian cuisine and grocery stores with national products on Santa Monica Boulevard in no way inferior in richness of assortment of Moscow or St. Petersburg.
Malibu Surfers
The famous beaches in the resort suburbLos Angeles stretched seventeen kilometers away, and for those who enjoy active fun on the water, there are all possibilities for a better holiday. surf school and diving clubs side by side on the beaches of Malibu with berths for yachts. By the way, rescuers are indeed present everywhere and, as in the movie, has an excellent physique and sociable character.
Pink greetings from Pasadena
Each new year in this suburb of Los AngelesIt begins equally beautiful - in the city since the end of XIX century goes luxury of Roses Parade, little inferior to the spectacular Caribbean carnivals. And in Pasadena, numerous old buildings, mansions and temples, so walk on its streets deliver true delight photographers.
In the footsteps of your favorite heroes
The sensational at the end of the last century infiniteTV saga "Santa Barbara" introduced millions of viewers to the residents of this suburb of Los Angeles. It is still inhabited by the millionaires who prefer quiet seclusion in a comfortable zone and mild climate. The beaches of Santa Barbara called the American Riviera, although the local ocean water temperature rarely rises above 20.
Photo