Areas of Miami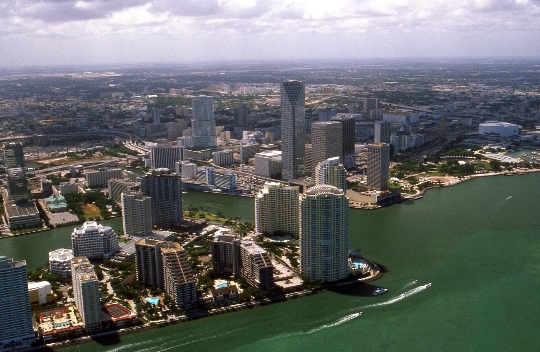 Looking at the map of the city, you can see the many areas of Miami: for convenience they are combined into 4 groups - northern, southern, central and western parts.
The names and a description of the main areas of Miami
Coconut Grove: in addition to nightlife tour will be interesting entertainment center "Coco Walk" (here open shops, a cinema, restaurants) and a large park, surrounded by larches. And this area is famous for holding festivals and carnivals - so guests will be able to visit the Miami Junkanoo parade, wine festival and Festival of Arts.
Key Biscayne: Key Biscayne attractions is the Oceanarium (here presentation show, which involved seals and dolphins), the old lighthouse (his age - more than 170 years), parks and areas for biking and rollerblading.
Downtown: in addition to the skyscrapers, museums, headquarters of famous companies and retail stores of different sizes (many buildings are equipped with viewing platforms), then settled Bayfront (happy campers amphitheater, fountains, lawns and palm trees) and the Park of the 200th anniversary - the ideal place for walks and accommodation for a picnic on the lawn. And because in this area there is a sea port, if you want you can go on a trip on one of the cruise ships.
Watson Island: it and the center of Miami are only a few minutes - it is interesting for its Children's Museum (this mini-town with hospital, shops, fire station and other facilities offering little guests to try on different profession and to communicate with the inhabitants of the corner of nature), Yacht Club and Jungle Island (great place where you can admire tropical birds, llamas, tigers, kangaroos, baboons and other animals).
Virginia Key: travelers are advised to relax on the sandy beaches and visit the Aquarium of the Pacific (the guests will meet with sharks, sea turtles and lions, stingrays, the Florida manatees).
Little Haiti: the area it is advisable to visit for anyone who wants to get acquainted with the Haitian culture in museums Haitian Heritage and the Arts Haiti.
Little Havana: this area is not recommended to visit after dark due to a sufficiently high level of crime, but during the day you can visit the pretty affordable at the price of local restaurants and shops, to get Cuban souvenirs and look at the fruit market. Visiting Little Havana podgadat recommended to hold the Cuban carnival Calle Ocho.
Where to stay tourists
Travelers pursuing pleasure goalsettle in the area filled with nightclubs, should pay attention to the hotels in the area of ​​Coconut Grove.Turisty who desire to live in coastal areas, can stay in South Beach (appreciate boaters - surfing, diving and sailing + here in the presence of all accommodation facilities price categories) and Sunny Isles (place, ideal for families with children).
Photos of Miami