Shops and shopping centers of Miami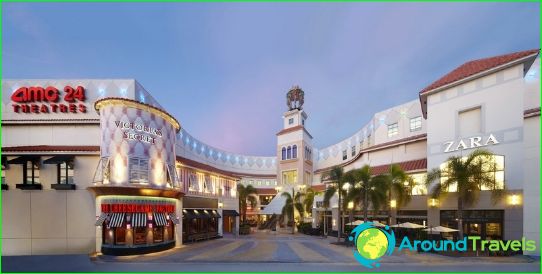 Miami beckons sandy beaches with blueocean waters, exotic vegetation and the hot sun. Unique environment with enterprising brave lady Julia Tuttle made in the 19th century the place of settlement of Indian tribes in the small town of farmers, who later transformed and grown in the world-famous resort. Fairly fry in the sun and naplavatsya in the gentle waters, weary vacationer looking for other entertainment. And they abound in Miami. And one of them - shopping. In Miami, mass retail outlets with a wide price range, so you are sure to find a suitable store.
Popular outlets
Bayside Marketpliace. The market is located on the shore of the Bay of Biscay. Find it in the shops can be all sorts of goods. It is designed for tourists, so the prices are somewhat high, but the unique atmosphere attracts vacationers. Small shops are located in the open air. The cozy restaurants with live music, the boys offer boating. It can be arranged at a table with a tropical cocktail and watch the colorful sunset over the bay, or chat with friends.
Intermix - a luxury boutique on Collins AvenueMiami Beach, brought together under one roof the latest fashion styles from top designers and daring: Chlo, Stella McCartney, Marc Jacobs, Moschino, and Diane von Furstenberg.
Prime Outlets is located next to the public beachin the East Palm Drive area. After time spent under the hot sun, especially nice cool dip in factory stores this shopping village. Outlet attractive good selection of watches and jewelry. The number of boutiques, maybe not great, but decent collection of shops, a substantial discount, so do not deprive the village of his attention.
Dolphin Mall - one of the biggest traderesort centers. The proximity to the airport imposes its own specifics. There are a huge number of food items. Also, given space for traveler in detail and souvenirs. However, all this is not to the detriment of all other goods shopping malls, because in places the size is huge. About the prices - they are low.
Bal Harbour Shops attracts those who canspend obscene amounts of money for a couple of hours, or those who wish to observe such friends, because many of them are recognizable persons. On the brand - it is Prada, Neiman Marcus, Tiffany & Co and Saks Fifth. About the prices - about whether it is necessary? Although sales happen and can coarsely be lucky!
Aventura - is one of the shopping malls,whereby Miami reputed shopping capital. A variety of goods at relatively low prices, a large number of shops, a variety of extra services. For children there are not just a play area, and experienced educators. Leg falls off from the race, you can revive in a massage parlor, manicure and hair color to change to match the dress bought in beauty salons. If physical exertion is missing, then welcome to the fitness center shopping center. Movie theaters, restaurants - everything is available.
Photos Miami stores