Miami Streets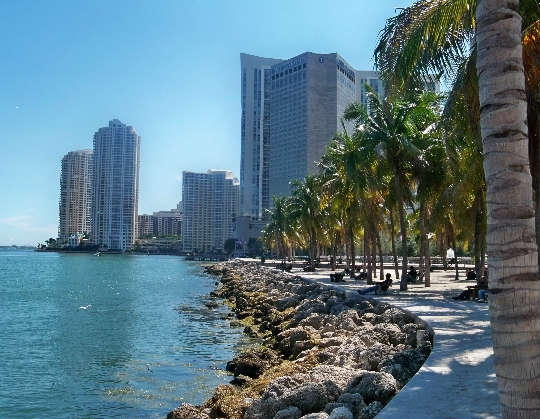 Miami is located on the coast of the Atlanticocean. All year round the city takes fans of beach recreation and entertainment. Streets of Miami, appeared on the site of ancient settlements of Indian tribes. Today, the city is divided into districts, which have some differences.
Areas of Miami
In the center of business life is concentrated. There are banks and offices. Historical sites are in the south of the city. West area occupied by immigrants, and the north - world stars. At the heart of Downtown Miami it is or a commerce area, full of skyscrapers, shopping malls and restaurants. High-rise buildings are located south of the city's financial center. It is a densely populated area of ​​the Brickell, which has a luxury apartment, expensive hotels and restaurants. Here live managers and bankers, most of which is Hispanic.
Art Deco
A unique area of ​​Miami is Art Deco. It occupies the southern part of the city and is considered a national treasure of the country. There you can see the building in the style of Art Deco and neoclassical. In the streets of this famous district go show-business stars and famous models. Restaurants, cafes and shops are open until late.
Collins Avenue
This street runs through the center of Miami,parallel to the ocean. It is considered the most popular street of the city. Both its sides are filled with prestigious hotels and restaurants. The street owes its name to John Collins, who found a way to drain the swamp in this area. The buildings are located on Collins Avenue right on the ocean coast.
Brickell Avenue
This is the famous street of the city, which has a secondname - "Street bankers." It passes through the business center and is associated with success, finance and business. Most offices and prestigious Miami restaurants located on Brickell Avenue. High-rise buildings are considered to be the hallmark of the streets of the city.
Lincoln Road
The main pedestrian street of the city isLincoln Road. It stretches across seven districts. Along the street there are expensive boutiques, fine dining, bars, cafes, concert halls and theaters. Lincoln Road is listed in the National Register of Historic Places country. In the 60s of the last century experienced street reconstruction. Today buildings are stylish neo-baroque.
Ocean Drive
Quay Ocean Drive takes severalkilometers and is the main street of Miami. It is filled with cafes, restaurants, bars and hotels. The main decoration of the streets are the picturesque palm trees, which are represented here in large numbers. Quay is always full of tourists, and local entertainment work almost around the clock.
Photos of Miami streets