Vehicles in Miami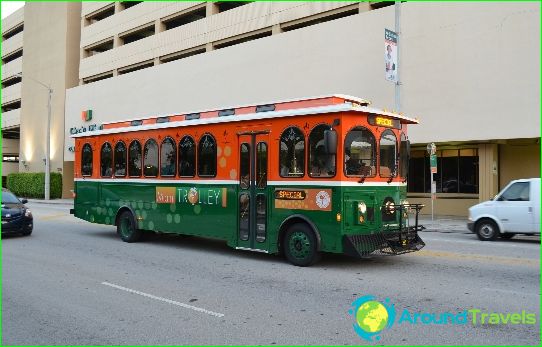 The city has been rightfully acclaimed main center of rest notonly Florida, but the entire North American continent, is the center of attraction for millions of tourists from different parts of the world. If the thought of Miami instantly drawn exotic landscapes earthly paradise: stretching into the distance strip of golden beaches, clear blue sky merges with the infinite ocean, bliss and full relaxation.
Not many remember that it is not onlyresort, but also a large business center, respectively, in the city of all the conditions for rest and work. Therefore, the transportation in Miami is presented in various forms, sometimes quite unusual.
Meters above the ground
The most interesting is the transport in Miamisubway, which could not be hidden under the ground. On the contrary, the branches are laid in the open air, and in some places the passengers there is the feeling of flying over the earth's surface, as the train moves on rails in cement poles. From the windows of cars and scenic views of the city of species, and the most unusual feelings in the first carriage of passengers, as trains are automated and moving without a driver.
Expensive, but it is convenient
So it is possible to determine the movement in Miamirented car. This fashionable resort priori can not be lower prices, so tourists should prepare around 100 dollars on a trip every day. And that's just the cost of rent, for which then will stack gasoline, parking fees.
Grasp rental cars should be strictlyadhere to local rules of movement, the penalty can greatly devastate tourist purse. It is necessary to remember that in Miami you can not carry alcoholic beverages in the lounge, just in the trunk.
Multicolored routes
The main entertainment center has recently acquireddouble-decker buses designed for tour itineraries guests, and locals too. The starting point is near Bayfront Park.
There are two different color of the route, one of them isin Miami Beach (blue), and the second - in the opposite direction (red). The journey goes in a circle, with stops at iconic locations and the ability to become more familiar with the local attractions.
You can buy tickets on the day, the cost for childrenslightly lower than for adult travelers. The second option - the purchase of two days - even more profitable because the cost increases slightly, but the number of discoveries, experiences, seen beauty increases.
Photo