What to do in Miami?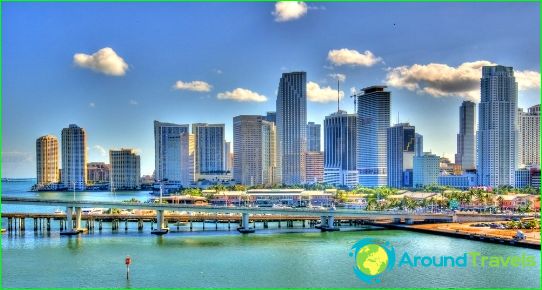 Miami - it's sandy beaches, zoos, aquariums, museums, safaris, cruises, trendy cafes and bars, shopping centers and much more, as most travelers dream.
What to do in Miami?
To go on a trip by speed boat (tour will start in the center of the city and will extend along Miami port);
Take a walk along the famous street Ocean Drive;
To go to the Everglades National Park (where you can see wild birds, crocodiles, deer and pumas);
To visit the Railway Museum and the Gold Coast Air Museum "Wings Over Miami";
See the Cathedral of the Holy Trinity;
Go to Barnes Park (here you can relax in the gazebo for a picnic, take a walk, go to the Nature Center, where you arrange fishing, hiking, canoeing, snorkelling).
Things to do in Miami?
The central part of Miami is rich andrespectable area consisting of luxury apartments and houses, business centers, golf courses and tennis courts. The southern part of Miami fans will enjoy a relaxing holiday, but there will also appeal to young people: in Cocunut Grove area you can find night clubs, restaurants and bohemian shops.
Children will be delighted hike to the zoo Metro Zoo. But no less interesting they will spend time in the outdoor pool Venecian Pool, Children's Museum, where there are a variety of attractions and a real fire truck, on which are allowed to climb. You can also take a stroll through the Botanical Garden Fairchild Tropical Botanic Garden (you can enjoy tropical and exotic plants).
Both children and adults to enjoyBiscayne National Park: here, in the Bay of Biscayne Bay, you can enjoy the underwater world by diving with a mask, or rent a boat and sail on it along the vast coral reef. And you can just sit on the beach and admire the magnificent scenery around. For a family vacation is perfect Jungle Island: in this huge park you will encounter alligators, exotic birds, rare plants and Leagrove - giant lion and tiger hybrids.
Shoppers should go shopping: in the city center you can buy fashionable clothes in the boutiques of famous brands (Harry Winston, Barney, Macy's). Trendy boutiques and vintage shops to be found in South Beach area, especially on Lincoln Road and Collins Avenue. For the luxury home furnishings advisable to go to the area of ​​Coral Gables, and for jewelery - in the Downtown area.
Passive and active rest can be on the beachesMiami. Here you can not only sunbathe and swim but also go on boat trips or go surfing. Those who would like to implement some of their needs in one place, can safely proceed to Nikki Beach, which is also the beach and the club, and a restaurant.
Arrived in Miami for the trendy clubs, the best parties and famous DJs, will be able to have fun in nightclubs such as the "Space" and "LIV".
Holidays in Miami can be very diverse - most importantly the right to plan the holidays with the schedule of places where you would like to visit.
Photos where to go in Miami